Horror Movie Exclusive Giveaway: Win a 10-DVD Halloween Horror Prize Pack From Bloody Disgusting!
by Micah J Gordon at . Comments
Movie Fanatic is thrilled to be giving away a 10-DVD horror prize pack in honor of the DVD release of the latest Bloody Disgusting Selects film Truth or Die, and of course, everyone's favorite holiday: Halloween!
One lucky winner will receive a DVD copy of the movies Atrocious, Chop, Cold Fish, Exit Humanity, Hellacious Acres, Phase 7, Rammbock: Berlin Undead, Truth or Die, The Woman, and YellowBrickRoad. Scroll down to find out how to enter!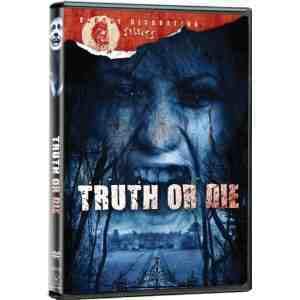 Before you enter, vote in at least one matchup in our Tournament of Movie Fanatic Horror Bracket!

Then, all you have to do to win is...
1. FOLLOW @MovieFanatic on Twitter.

2. RETWEET this tweet along with the title of one of the movies you voted for in our Tournament of Movie Fanatic Horror Bracket. Make sure you include "@moviefanatic" and a link to this post in your tweet, so we can see it.
Be sure to follow us so we can contact you if you're the winner. One lucky winner will be selected at random on Halloween, Wednesday, October 31. Good luck!