The box office saw a big jump this weekend as Hotel Transylvania scored big to take home the #1 ranking. The 3D stop-motion animated film starring Adam Sandler, Selina Gomez, Andy Samberg, Kevin James, and Steve Buscemi (The Big Lebowski) earned $43 million in its opening weekend.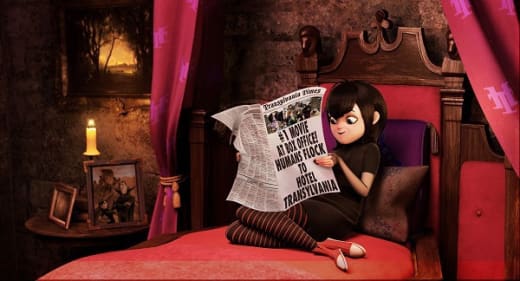 Looper came in second, with a respectable $21.2 million opening weekend. The sci-fi action film stars Joseph Gordon-Levitt (The Dark Knight Rises), Bruce Willis, and Emily Blunt, and is written and directed by Rian Johnson.
Coming in third is the semi-found-footage action film End of Watch. The film took in $8 million in its second weekend, bringing its total gross to $26.2 million.
Trouble with the Curve and House at the End of the Street round out this weekend's top 5. The two films earned $7.5 and $7.2 million, respectively in their second weekends.
1. Hotel Transylvania, $43 million
2. Looper, $21.2 million
3. End of Watch, $8 million
4. Trouble with the Curve, $7.5 million
5. House at the End of the Street, $7.2 million
6. Pitch Perfect, $5.2 million
7. Finding Nemo 3D, $4 million
8. Resident Evil: Retribution, $3 million
9. The Master, $2.7 million
10. Won't Back Down, $2.7 million