Unfilmable books are the bane of Hollywood (no, that's not quite like the Bane of Gotham). Novel adaptations are an attractive prospect because they come with a proven story and a built-in audience, but sometimes it's not that simple.
It takes a truly dedicated director with a very clear vision to pull off an adaptation of a book that has been deemed "unfilmable." Classically unfilmable books that have been given a try include David Cronenberg's adaptation of William S. Burroughs' disjointed collection of drug-hazed vignettes Naked Lunch, and the adaptation of fellow beat Jack Kerouac's On the Road, starring Kristen Stewart, which will finally be released in the U.S. on December 21. Both have been met with incredibly mixed critical response.
Other unfilmable novels include two that seem cursed, given their track record of failed attempts: Don Quixote and A Confederacy of Dunces, the latter of which is currently being developed for The Hangover's Zach Galifianakis.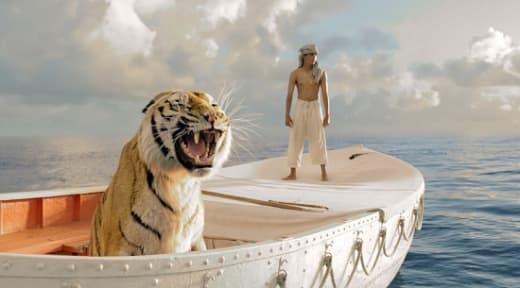 Now, Ang Lee takes on Life of Pi. Unlike the previous adaptations mentioned, Life of Pi has been considered unfilmable not because of the intimate, stream-of-consciousness nature of the writing nor because of numerous failed attempts, but because of the logistics of the story.
Much of the film takes place on a lifeboat, where the main character Pi, played by Suraj Sharma, is stranded alone with a Bengal tiger. Think Castaway, only Wilson could kill you.
Hear some insight into how Lee pulled it off in this Life of Pi featurette, then check out the Life of Pi trailer before the film hits theaters November 21.