Poltergeist  scared up quite a lot of business when it premiered in 1982 and one can see why. It is utterly terrifying. The film starred Craig T. Nelson and JoBeth Williams and one young actress in Heather O'Rourke who stole the film with her turn as Carol Anne.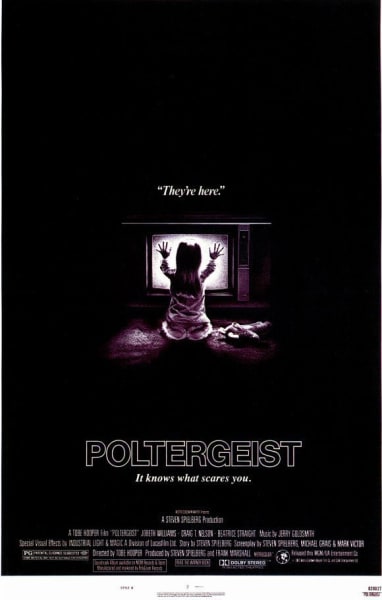 Beyond its scares, the film also gave us quite a few iconic movie lines. Check out some of the best below and all of our Poltergeist quotes. 
Carol Anne: They're here. | permalink
Diane: Sweetheart, last night, when you said "They're here?" 
Carol Anne: Can I take my goldfish to school? 
Diane: Sweetheart, do you remember last night when you woke up, and you said "They're here?"
Carol Anne: Uh huh.
Diane: Well, who did you mean? 
Carol Anne: The TV People. 
Robbie: She's stoned. 
Dana: Oh yeah? What do you know about it? 
Robbie: More than you. Ask Dad. | permalink
Steve: Tomorrow I'm going to call someone. 
Diane: Like who? I looked in the Yellow Pages. "Furniture Movers" we've got; "Strange Phenomenon," there's no listing. | permalink
Tangina: There is no death. It is only a transition to a different sphere of consciousness. | permalink
Diane: What's happening! | permalink
Diane: You were saying about poltergeists. 
Dr. Lesh: Poltergeists are usually associated with an individual. Hauntings seem to be connected with an area. A house usually.
Marty: Poltergeist disturbances are of a fairly short duration. Perhaps a couple of months. Hauntings can go on for years.
Diane: Are you telling me that all of this could just suddenly end at any time?
Dr. Lesh: Yes, it could. Unless it's a haunting. But hauntings don't usually revolve around living people.
Diane: Then we don't have much time, Dr. Lesh, because my daughter is alive somewhere inside this house. | permalink
Diane: Don't touch my baby! | permalink
Diane: Carol Anne -- listen to me. Do not go into the light. | permalink
Tangina: This house is clean. | permalink