When Prometheus hit theaters this past summer, it rocked many people's world. Yet, for others… the Ridley Scott movie was littered with holes and did nothing but raise questions.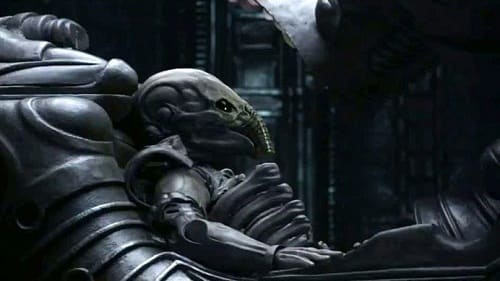 Fortunately for all those involved, Blu-Ray has the power to take the viewer deeper into a film's mystery and provide a sound experience that cannot be delivered in a theater. That is certainly the case, albeit a surprising one given the scope of the film, with Prometheus.
The Prometheus Blu-Ray landed on Tuesday and it has so many extras, it has taken this reviewer two days to go through them all! Movie Fanatic appreciated the theatrical version for what it was (check out our Prometheus review), but with the power of hindsight, that adoration for the film has faded with time.
But, we are happy to report that after viewing the film on Blu-Ray, utilizing its second screen technology and pilfering the package's extras… our opinion on the film that may or may not be a prequel to Alien has seriously improved.

Mystery has surrounded this project since it was first announced and Damon Lindelof and Jon Spaihts' script did nothing but add to that fire. Upon viewing the film, audiences may not have responded the way that the screenwriting duo had hoped. With the Blu-Ray release and its containing the second screen app for tablets or smart phones, the brilliance of their world is seriously enhanced.
Sure, you might be saying, "Shouldn't all that be figured out for the theatrical version?" Yes, but… the glory of the Blu-Ray format is that it allows audiences to see another side of a movie. Even Oscar-winning pictures benefit from a second look with the added benefit of the disc's extras.
On the home video release, we were treated to the original theatrical release, but also something called the "ultimate Prometheus experience" (highlighted in the above video) with an alternative opening and ending… both will intrigue.
Although due to its theatrical length, the deleted scenes available on the Blu-Ray could not make the film's cut, witnessing them on the home video seriously enhances the universe that Scott clearly created with his breakthrough Alien. One no doubt sees the connection to that 1979 powerhouse now.
Also, a little hint: There is a feeling of a connection to Scott's other sci-fi epic, Blade Runner, in some of the extras as well! That we gleaned from the commentary by Scott along with tidbits pieced together from the Lindelof and Spaihts commentary as well.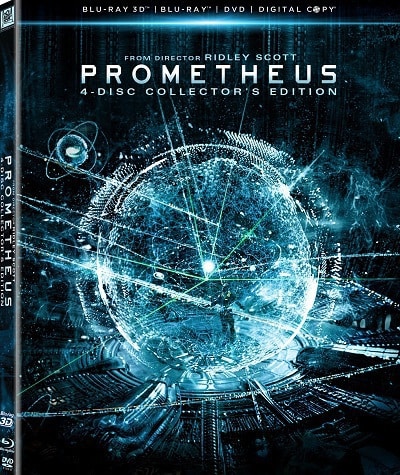 And before you're ready to put the Prometheus Blu-Ray back on the shelf, make sure you check out the Peter Weyland Files… there are more clues to the story's mystery than almost anywhere else on the disc!