Mary Elizabeth Winstead's charm has enthralled us for years and it never worked so well as it does in Smashed. The actress portrays Kate Hannah, a woman who has been sharing her love of the drink with her husband Charlie (Aaron Paul) for years. Only, her drinking has gotten the best of her and it is affecting her teaching career and thus, her hopes and dreams.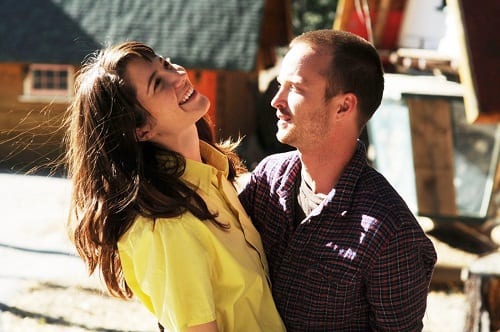 Smashed
avoids every pitfall that could come along for a film about someone getting sober. Director James Ponsoldt has weaved a web that shows what rock bottom looks like without exploiting it and sending his audience off an emotional cliff of despair. Much of that is due to his script with co-writer Susan Burke, but also in that his stellar cast delivers their lines with a truth that is hard to find in a "getting sober" drama.
The leads lead the way.
Mary Elizabeth Winstead
is a revelation and it is through her journey that the film has not only its deeply moving moments, but also beats of humor… particularly in her AA meetings.
Paul continues his acting winning streak (he just took home the Emmy for
Breaking Bad
). His characterization is one part empathy, two parts selfishness and all the world of someone battling addiction. His Charlie understands Kate's desires to be clean, but does nothing to aid in her effort.
Three more actors our
Smashed
review has to salute. The husband and wife team of Megan Mullally and Nick Offerman hit all the right notes as Kate's public school colleagues. The duo, used to being funny, show their dramatic chops. And last year's Oscar winner for Best Supporting Actress, Octavia Spencer, shines in the role of a fellow AA member who becomes Kate's sponsor.
Getting sober is a thorny experience, ripe with laid landmines that make triumph a continuing effort until the day you die. It is rare that Hollywood gets it right. In
Smashed
, those moments are detailed with such precision and heart that our pulling for Kate to stay sober sits in the same wheelhouse as an audience hoping the hero slays the villain. Only here, the evil comes from the addiction within.