It is extremely rare these days that a film's sequel outperforms its processor, but that is exactly what Taken 2 did this weekend at the box office. When Liam Neeson became an action star in 2008 with Taken, the film banked $24 million when it premiered. Taken 2 debuted amongst a slew of competition and earned an astounding $50 million.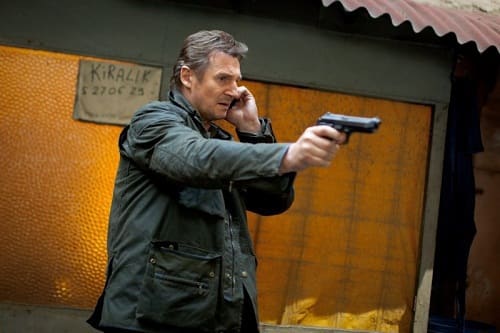 The biggest surprise was the lack of interest in Tim Burton's
Frankenweenie
. His passion project only earned $11 million and landed in fifth place. It was another family film that landed in second place, last week's box office champ,
Hotel Transylvania
. The Sony Pictures animated flick that stars Adam Sandler added another $26.3 million to bring its two week cumulative to $76 million.
Third place belonged to the singing sensation,
Pitch Perfect
. The film debuted nationwide and earned $14.7 million. Adding to its sales from a limited release last week and
Pitch Perfect
has banked $21.6 million total.
Fourth place saw the Joseph Gordon Levitt and Bruce Willis playing the same character sci-fi thriller
Looper
. In its second week of release, the Rian Johnson film took in $12.2 million. Its two week total is now $40.3 million.
Box office top 10:
1.
Taken 2
, $50 million
2.
Hotel Transylvania
, $26.3 million
3.
Pitch Perfect
, $14.7 million
4.
Looper
, $12.2 million
5.
Frankenweenie
, $11.5 million
6.
End of Watch
, $4 million
7.
Trouble with the Curve
, $3.9 million
8.
House at the End of the Street
, $3.7 million
9.
The Master
, $1.8 million
10.
Finding Nemo 3D
, $1.6 million