The Texas Chainsaw Massacre arrived in 1974 and put director Tobe Hooper on the map. His terrifying tale of a group of pals who find themselves the obsession of a chainsaw-wielding menace still resonates to this day. Want proof? How about these timeless The Texas Chainsaw Massacre quotes!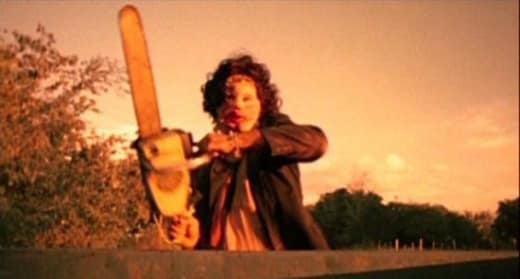 Hitchhiker:
My family's always been in meat. |
permalink
Franklin:
[
referring to the Hitchhiker
] I think we just picked up Dracula. |
permalink
Old Man:
Those girls... those girls don't wanna go messin' round no old house! |
permalink
Kirk:
[
when approaching a slaughterhouse
] What's that stench? |
permalink
Pam:
Hey, listen to Franklin's horoscope. "Travel in the country, long-range plans, and upsetting persons around you, could make this a disturbing and unpredictable day." |
permalink
Sally:
[
when they arrive at the old house, upon seeing its condition
] Oh, I wish they hadn't let the place fall apart.
Jerry: Now it looks like the birthplace of Bela Lugosi. |
permalink
Old Man:
[
to Leatherface
] You... you damn fool! You ruined the door! Ain't he got no pride in his home? |
permalink
Franklin:
If I have any more fun today I don't think I can take it! |
permalink