One of the first pieces of work that Tim Burton ever created was a short film that now lives as a full-length, stop-motion animated film, Frankenweenie. Burton was an animator at Disney and took his affection for the monster films of his youth and crafted a short that would enthrall millions over the decades.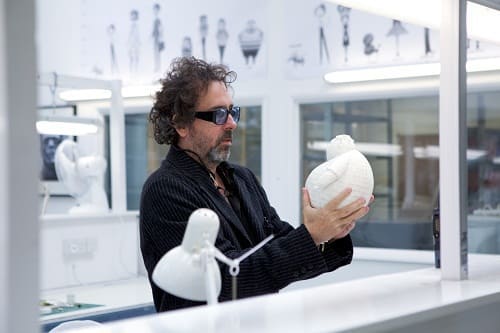 Movie Fanatic caught up with the filmmaker recently at Disneyland where the iconic Haunted Mansion was made over for Halloween as a tribute to his
A Nightmare Before Christmas
to talk about where he's been and where he's going. Burton talks bringing
Frankenweenie
to life and even gives a little insight to the brewing
Beetlejuice
sequel.
Movie Fanatic:
It's clear that those Universal monster movies had a huge effect on you. What about them are so resonant for you?
Tim Burton:
For me, those movies spoke to my emotional life in the sense that all those movies, if you felt weird or outcast or lonely, you could relate to the monsters. Most of the monsters were misunderstood characters. I think a lot of children feel that way. It was easy to identify with those characters.
Movie Fanatic:
Considering this has been literally in your mind for decades, are you more than ready to release it into the world?
Tim Burton:
It's been such a long process, especially for the animators. They're the ones who are long suffering in a dark room for a couple of years. For something like this, so many people put so much work into it and I feel good about it. I'm ready for it to end after all those years.
Movie Fanatic:
How do you see this story as a 50-year-old, versus someone who was just starting out as a filmmaker?
Tim Burton:
Whatever feelings you had as a child you never really lose them. If you feel a certain way, it doesn't matter what happens to you later in life. You retain those feelings. It's always been important to remember seeing things in a different way.
Movie Fanatic:
Did making
Frankenweenie
touch on memories of your youth? 
Tim Burton:
I remember all the weird kids at school and even the architecture of Burbank. The idea of going to the original drawings and expanding it to other monsters in a House of Frankenstein motif -- in black and white and 3D -- made it feel like a different project, even though the root of it is the same.
Movie Fanatic:
How did your perspective shift from being a young guy who was deeply influenced by popular culture to meeting and working with your heroes, like Vincent Price?
Tim Burton:
I've been lucky with everybody I've been inspired by. Vincent Price was that way. Christopher Lee was that way and Martin Landau… I've been very lucky to meet those people and they have a very similar dynamic of being amazing graceful people -- which sets you up for life when you get that good experience.    
Movie Fanatic:
Winona Ryder talked to me about first meeting you. You've worked together many times over the years, talk about how you have perceived her over the years?
Tim Burton:
She hasn't really changed much. That's why I asked her to do the voice of the kid because that's still [
laughs
] how she sounds. I love working with her. It was a project that means a lot to me. It was nice to have somebody like her who I love and Catherine (O'Hara), Martin (Landau) and Martin (Short). It was important on this to have that type of connection and it made it more special to me.
Movie Fanatic:
Speaking of films from your youth, how is the
Beetlejuice
sequel progressing?
Tim Burton:
The writer is writing something and I don't know when it's coming. I have no expectations to see if it's any good.
Movie Fanatic:
Did you have any suggestions for the screenwriter?
Tim Burton:
I didn't give him too much because I didn't want to have any pre-conceived ideas about it. Sometimes you just want to be surprised because you want to have the best response to something if you're not throwing 30 years of pre-conceived notions about things.
Movie Fanatic:
So it's safe to say you're amendable to the idea…
Tim Burton:
Honestly, I love the character. If it's a good script, then… [
smiles
].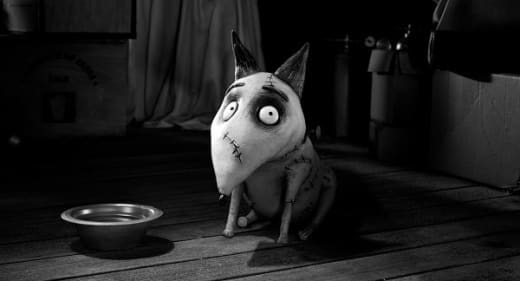 Movie Fanatic:
Why did you choose stop-motion animation for
Frankenweenie
when the original was live action?
Tim Burton:
When you're taking a story of Frankenstein and you're doing a story of someone taking an inanimate object to life, that's what stop motion is. Some movies are better drawn, some are better on a computer, some are better stop motion. You try to do a film where the medium is the right way to do it.
Movie Fanatic:
What makes a Tim Burton film so special?
Tim Burton:
I don't think about that kind of stuff. You try to spend your life trying to become a human being and then you become a thing. "This is what you do," people say. I try not to think about it. That's why I don't read things about myself. I don't want to think, "This is what I do. This is my style." It's better off to not think of yourself as a thing.