Wrong Turn 5 is out now on Blu-Ray, DVD and On Demand and we phoned director Declan O'Brien (who also wrote the third film and directed the fourth film in the series) to find out what it is about horror movies that we love having scare us so much.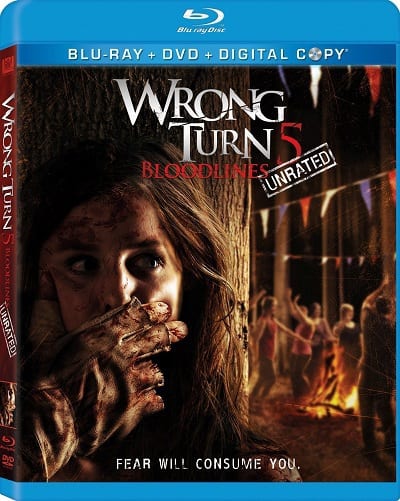 O'Brien also dishes his latest film and the challenges that seem to ever build with each passing movie in the franchise. The biggest thrill had to be working with horror movie legend Doug Bradley, and O'Brien exclusively tells us what that meant to him as a longtime horror buff.
Movie Fanatic:
What is it about the
Wrong Turn
movies that you think have really struck a chord?
Declan O'Brien:
I think the thing that's struck a chord is basically the sheer terror of these three cannibal hillbillies, and over-the-top nasty ways they kill people. And also I think it's the really dark humor in these films. The fans have a good time watching them. It's a fun horror movie.
Movie Fanatic:
Personally and professionally, what did it mean to you to work with Doug Bradley of the
Hellraiser
series on
Wrong Turn 5
?
Declan O'Brien:
He's a great guy. He's a lot of fun. We got along fantastically. He really brought the character of Maynard to life, just as I had written, just as I had hoped, and delivered an outstanding performance. Professionally, it's really great to be working with a horror icon. Pinhead took a wrong turn. It doesn't get any better than that.
Movie Fanatic:
What horror movies influenced you when you were a kid?
Declan O'Brien:
One of the movies that clicked was
The Exorcist
. I couldn't believe that. I've had the chance to develop some projects with George Romero and
The Living Dead
was an incredible movie and incredibly scary and also had social commentary which was really evolved. Those films gave me the love of the genre.
Movie Fanatic:
What part of the process of making
Wrong Turn 5
turned out to be easier than expected and what proved more than a challenge than initially thought?
Declan O'Brien:
Nothing is easy on a film [
laughs
]. It's like a slow train derailing where you're trying to keep the train on the tracks. Working with Douglas was very collaborative -- he gave an outstanding performance. What was difficult? Language barriers were difficult -- getting practical effects to work. Trying to come up with solutions when you're not an engineer is difficult. For example, there's a scene where a body is supposed to go through a snow blower. First time I did it, the head goes fine… the body got wrapped up and it didn't work. There was not enough blood. What I did, got another dummy, cut it in half and cut out the inside. Go to the butcher store, get some real meat and stick it in there [
laughs
]. That's what happened, and it looks fantastic.
Movie Fanatic:
What are your proudest moments on the three
Wrong Turn
movies you worked on?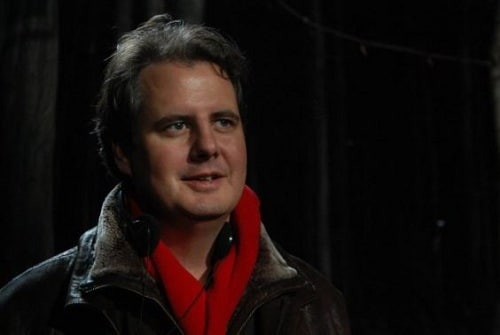 Declan O'Brien:
With the third -- it's a small budget -- I crashed a prison bus inspired by
The Fugitive
prison bus crash, and doing that without the train of course, pulling off that stunt was a huge undertaking at that budget. I think it turned out pretty good. On
Wrong Turn 4
, the physical demands of shooting in Winnipeg in February were hard. It was like shooting a movie in Antarctica! With this fifth one, I'm in Bulgaria and I need a small Virginia town, which I had to build. Getting that whole town built in time and on budget was really difficult.
Movie Fanatic:
Even after the real life scares we have in the world, why do we still love horror movies?
Declan O'Brien:
That's the id speaking to us. It's a way of the brain to feel scared, but in a safe way. It's cathartic, the release. People have wanted to find a safe way to be scared for centuries.
Movie Fanatic:
What onscreen scares you?
Declan O'Brien:
An out of focus shot [
laughs
]! That scares the hell out of me. What scares me in terms of storytelling is the sense of isolation and hopelessness and characters you don't want to see die.
In the mood for horror now? Then be sure to vote in our Tournament of Movie Fanatic Horror Bracket for your fave!