It has been four incredible years for actress Elizabeth Reaser tackling Stephenie Meyer's literary alter-ego mother character Esme in The Twilight Saga. Now that Breaking Dawn Part 2 is in the can and set to enlighten audiences, Reaser admitted in our exclusive interview that she's not one for nostalgia. "Part of me moves on really fast," Reaser said. "I'm an actress so that's what you do. When you're done, you're done."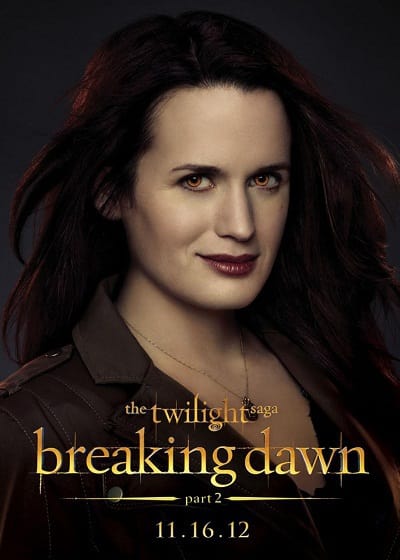 Yet, there is something different about the experience of being the mother to Edward (
Robert Pattinson
) and witnessing his romantic and thrilling journey with Bella (Kristen Stewart).
"Another part of me, I don't think I've even processed it all. I think it will be another year, maybe two years, before I'll be able to look back and have any perspective on how crazy insane this whole thing's been," Reaser said. "From the get-go, every single step of the way, I've been shocked, just so blown away by the passion that people have for these movies and these characters."
Reaser reported that thankfully, she had no idea of the utter pandemonium surrounding Meyer's series when she first landed in Vancouver to shoot
Twilight
. "I didn't understand the scope of it when I first started, which was probably to my benefit. Had I been a younger girl who was a fan already, I might have had a little more pressure," Reaser said.
She was able to just show up and let the novel's author and that film's director, Catherine Hardwicke, do their thing. The franchise was off and running to a full blown blockbuster. "I knew Stephenie specifically told me the first time I met her that she was really happy that I was playing Esme, that she had known me from
Grey's Anatomy
and other things," Reaser said and smiled.
"That kind of thing just really gives you so much confidence to just do my job. I don't even think about it in those terms and now that you mention it, I could have been totally just despised and hated by the fans! It never even occurred to me that that was an option. So thank God!"
With some page-to-screen adaptations, the author isn't very involved. Yet on the
Twilight Saga
, and especially on
Breaking Dawn Part 1
and
2
, Meyer has been ever present and her insight is often needed. "Having her around affects the energy on set. It's like, 'That's the person that created this. It came from her.' It just feels good to know that she's there. She cares. She's got a voice. Her support, I feel, was really helpful to us."
From
Twilight
through
Breaking Dawn Part 2
, Reaser is most often attached to the hip of her onscreen husband, Dr. Cullen (Peter Facinelli). "I just miss him," she admitted of her feelings towards Facinelli as the dawn prepares to break on this
Twilight
ride.
"We're never going to have 18-hour days together, huddled up in a trailer or whatever we're doing in the woods. I just miss his humor. If I had to pick a show husband for five years or five movies, he would definitely be it. I got really lucky."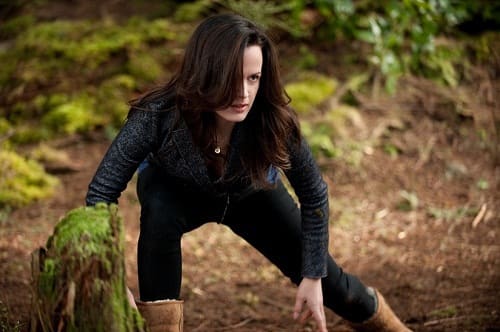 It must be an interesting change from now on to play a character only once after portraying Esme for four years. "This is the rare thing. Usually these things are finite. There are times where I'm like, 'I wish I could revisit that character.' You don't get to do that and you have to let it go. But that has been something fun about these movies, that I've gotten to reinvestigate it and try and get better at it," she admitted.
Given specifically what the character was, the actress felt it was even more challenging. "It's really a hard thing to do, weirdly enough. Playing a vampire, this type of vampire, has been really hard for me, imaginatively. To make it believable and feel authentic and yet still be part of the world in a way that feels dynamic, it's nice to keep getting a crack at it."
We will not speak of the ending, but when asked about the actual closing moments of
Breaking Dawn Part 2
, Reaser reveals how it was truly traumatic. "It was very intense. We only did a couple takes, thank God. Usually on these movies, we do tons of takes and tons of angles," Reaser said. "Luckily we just got it because it was just such an intense thing to play, obviously."