Melissa Rosenberg has a unique take on the Twilight Saga phenomenon. She has written every single script from the first (with its legendary Twilight quotes) through Breaking Dawn Part 2. The screenwriter met Movie Fanatic for an exclusive interview taking us through the process of writing with author Stephenie Meyer's encyclopedia brain of all things Twilight.
She clearly appreciates the enormous opportunity that was being able to pen all five scripts. "It's a turning point for me professionally. It was a turning point creatively; I learned so much with these books. I've learned so much about adaptation, about craft of screenwriting. It was a tremendous education in that regard. Also, professionally it brought opportunities," Rosenberg said.
Initially she was only contracted for
Twilight
. It is rare that a franchise keeps the same director or screenwriter. Heck, the
Twilight Saga
had four directors. "I just went from one to the other to the other, which is a good way to do it," she said and smiled. 
Writing is such a solitary process, yet for Rosenberg, having Meyer a phone call away not only aided her creativity, but she got a lifelong friend in the process. "We get along so well. She is absolutely a priceless resource. Any time I had an idea or was stuck on something, I would call her," Rosenberg said.
"Every single character, it doesn't matter how small a part they are, has an entire backstory in her mind. She has worked out the entire mythology down. Even things as small as: What color are the wolves? I need to define each wolf. It's all either in the book or in her mind."
The final
Twilight
film features an ending that is a little different than the book, as we discuss in our
Breaking Dawn Part 2
review
. It works quite well and Rosenberg told us that it was a magical night with Meyer when the two met for some steaks. It's an incredibly iconic moment for me," Rosenberg admitted. "It was just one of those moments you remember the light bulb goes on."
The screenwriter appreciated the creative leeway she had in penning the final script. Because the books are from Bella's perspective, she was able to take the action elsewhere onscreen. Yet she still culled her inspiration from the material's source.
"I got to do a lot of creating in
Breaking Dawn Part 2
, but it's all coming out of the book. Things happen like Carlyle goes to find Alistair in England. He comes back and tells, 'I found Alistair in England.' Because it's a movie, I get to go with him to England. We get to go with Rosalie and Emmett and find Garrett. I got to do all this adventure, but it is all formed by the book. That made it the most fun movie for me because I got to do stuff like that. And Stephenie loved it. She always wanted to go away from Bella's perspective. She and I had a great dinner that night, I tell you."
Whether to break
Breaking Dawn
into two films was always up to Rosenberg and Meyer. "It was a hard decision which the studio left to Stephenie and I. How much story do we have? It became really clear that there are two movies here, and an obvious break," she said. "Stephenie felt the same way. If it was one movie, it would have short-changed the story."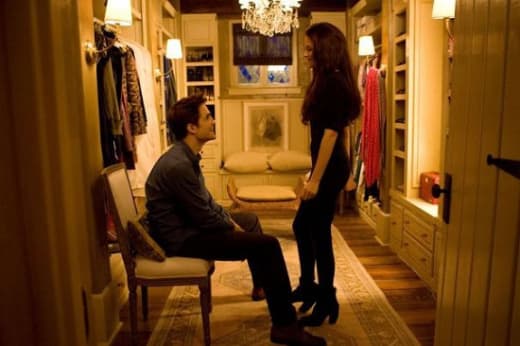 The success of another franchise's splitting one book into two only helped. "The fact that
Harry Potter
worked -- they managed to split a book into two and the audience stayed with them -- that definitely affected things," Rosenberg admitted. 
Now that the end is officially here for everyone in the
Twilight
universe, Rosenberg -- as others told us (like in our
Robert Pattinson interview
) -- is excited for the future. "I have some dreams-come-true opportunities now. And this franchise let me get there," she said.
She will miss the
Twilight
premieres, though. "This is the last one of these. It's always such an extraordinary experience and a reunion. It's also for me -- I get to wear some fabulous dress. For writers, to be able to go to a premiere and have a princess moment -- I got to do that five times. I've kind of gotten used to it," Rosenberg said and laughed.
"There will never be premieres I'll attend like a
Twilight
premiere. Watching the kids, I compare it to the Beatles visiting Ed Sullivan."