Now that Breaking Dawn Part 2 is set to close the Stephenie Meyer Twilight world, there have been hints of a Jacob-Renesmee spin-off. Meyer told Movie Fanatic there are ideas, but how far they will go… she doesn't know.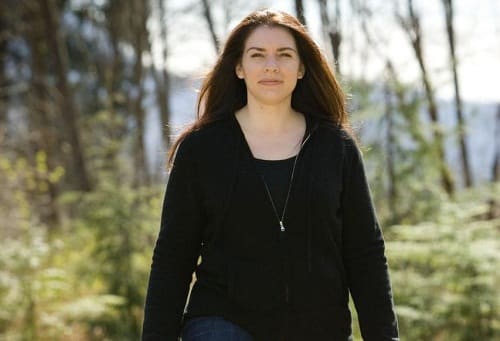 "I had planned out where it would go, for a couple more books, so I know exactly what would happen. There are other characters that I think would have had a lot of voice, in those coming stories. I don't know," Meyer said. The audience for those future
Twilight
books may be quite small. "Someday I'll write it out, just for myself. We'll see."
Meyer is even coyer when asked whether she would ever consider handing off the series to some other creative type while she worked on other things. "I've been pretty hands on," she admitted, something echoed in our
Taylor Lautner interview
.
"It's a hard thing. I'm going to be the same way when my kids go off to college. I am a hands-on mom, and these characters really do feel like my kids. It's hard to have them doing things that don't sound like them. Not with the movies, but with some other things. I've seen other people's versions of what the characters speak like and it just doesn't seem right. So, I don't know if that would ever be something that I'd be fine with. In 10 years, who knows?"
When having
Breaking Dawn Part 2
adapted by longtime
Twilight
screenwriter Melissa Rosenberg, Meyer worked closely with the scribe to alter a few things from her book to benefit the cinematic close to the
Twilight Saga
. "When Melissa and I sat down, we first said, 'Are we going to make
Breaking Dawn
into a movie? Will it be one or two? What are we going to do?' And we knew the end would be something we had to crack," Meyer said.
Fans of the series have debated the literary conclusion and their response to it on screen will certainly be one that garners much discussion. "We hashed it out and came up with something that, in a way, I feel is off screen in the novel because we only see what Bella sees. This was just a way of making visual what some of the other characters might have been seeing," Meyer admitted.
"It does feel very surprising. Watching it, I still have that moment where I go, 'Oh, right, we did that, didn't we?!' There's definitely something new to see, but to me, it doesn't feel like it's going hugely off the page, at all."
As this is the end, it is natural to revisit the beginning. Meyer famously had a dream of Edward and Bella in the mid-2000s and awoke to furiously put pen to paper. "Sometimes ideas feel like they were already there and that you're just discovering them. It definitely was a much more persistent idea than many I had had before. It was something that I was just wrapped up in and intrigued with. It was a really great summer," she said and smiled.
"It was probably one of the best summers of my life, when I got to just live in Forks, for the first time."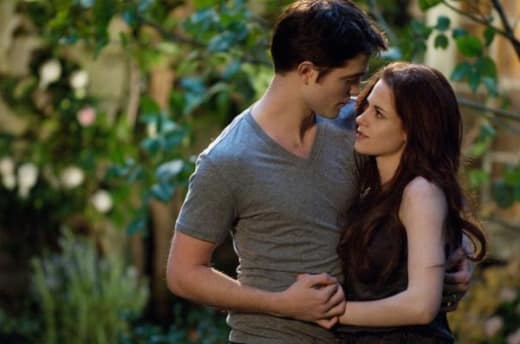 Speaking to the nature of fate perhaps, Meyer's future became forever linked to how long it took her to go from awaking from dream-filled slumber to author of
Twilight
. "Not 15 minutes! My babies were little then and my memory was trash," she said about the fury of getting the story committed to paper.
"I enjoyed that little story in my head so much. I woke up from it and sat there and imagined the conversation [between Edward and Bella], how it would have gone and what would have happened next. Then, I thought, 'I'm going to forget this by tonight.' So, as soon as the kids were fed, I started typing it out, just to help me remember. It was pretty instantaneous."
When it comes to the draw of why she composed a story about vampires versus something else, the author doesn't necessarily see it as a metaphor for anything in particular -- just another way to look at the journey of life. "Vampirism, for me, was a way to live in fantasy and have superpowers, but not just in a really perfect, happy, everything is great way. It's superpowers with a cost," Meyer said.
She then describes the world she created for Edward and it gets to the heart of why he continually dissuaded Bella from becoming a vampire.
"With Edward, I think he resists happiness a lot, in the first three books. He's afraid that he doesn't deserve it. He's seen a few examples of people being turned into vampires and not being very happy with it, and he's not entirely happy with it himself. He always feels like he didn't have a choice. He wonders, 'Is he now, by definition, a villain and a bad person?' He doesn't want Bella to feel that way," Meyer said.
"In retrospect, it works great for her and she's perfectly happy. But, he's a very cautious person. Becoming a vampire is forever. You don't get to change your mind about it later."