When Sylvester Stallone gathered a bunch of over-the-hill action stars for 2010's The Expendables, the world was shocked when it became a blockbuster. Stallone brought the band back together for a sequel and amped up the star power, giving expanded roles for first film vets Arnold Schwarzenegger and Bruce Willis and adding action superstars Chuck Norris and Jean Claude Van Damme. Audiences responded in droves and now fans and those that missed the action folly in theaters can check it out as The Expendables 2 lands on DVD and Blu-Ray.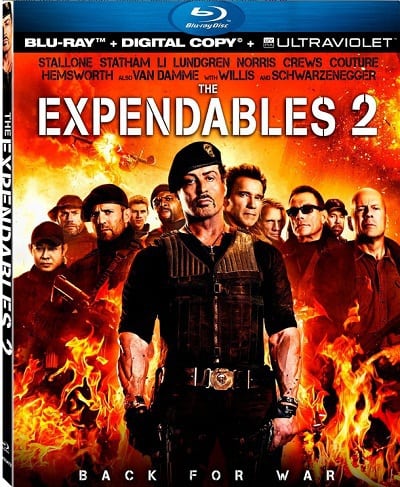 Movie Fanatic received the Blu-Ray, Digital Copy and Ultraviolet combo pack and, as stated in our
The Expendables 2 review
, we like this film much more than the first. So, it has that going for it. But, then diving into the Blu-Ray extras,
The Expendables
experience is even more explosive.
As he did in our
exclusive Simon West interview
, the director sounds like a kid in a candy store with the audio commentary he provides for the film. Directing what must have seemed like all of his action heroes from his formative years, was clearly pure bliss. Also noteworthy is the stellar featurette
Gods of War: Assembling Earth's Mightiest Anti-Heroes
. Sometimes behind-the-scenes bits feel a tad mailed in, like they have to do this for the home video release and no heart is put into it. Not so with
The Expendables 2
.
Another not-to-miss feature is the
Big Guns, Bigger Heroes: The 1980's and the Rise of the Action Film
documentary. For fans of movies of that era, it is priceless. Anyone new to the appreciation of Stallone, Schwarzenegger and Willis will gather an understanding of where their greatness emanated from.
Action movie aficionados will also treasure a rare featurette that should be included in all war-based action flicks.
On the Assault: The Real-Life Weaponry of The Expendables
gives audiences a front row seat to the reality behind the fiction, only further enhancing the war-torn feel of
The Expendables
world.
One complete surprise to the Blu-Ray extras is something that is standard and feels a bit played out on comedy discs, and that is the gag reel. But,
The Expendables 2
gag reel is pure comic gold. Nothing funnier than a group of tough guys who can laugh at their own mistakes and miscues!