The poster for the upcoming comedy Movie 43 has dropped at EW, highlighting the gigantic ensemble cast. Take a look: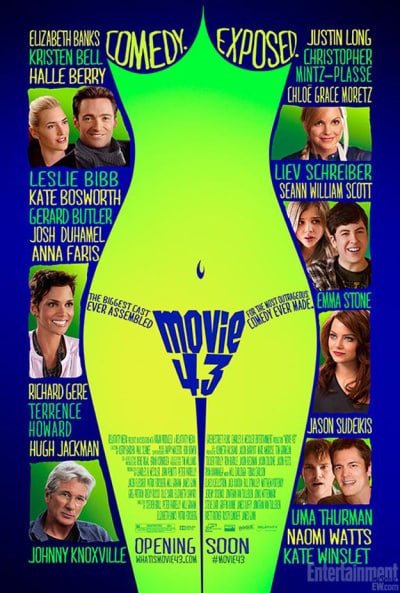 We mentioned a giant ensemble cast. Here it is (maybe you're blue/neon green color blind, I don't know): Elizabeth Banks (The Hunger Games), Kristen Bell, Halle Berry, Leslie Bibb, Kate Bosworth, Gerard Butler, Josh Duhamel, Anna Faris, Richard Gere, Terrence Howard, Hugh Jackman, Johnny Knoxville, Justin Long, Christopher Mintz-Plasse, Chloe Moretz, Liev Schreiber, Sean William Scott, Emma Stone, Jason Sudeikis, Uma Thurman, Naomi Watts, and Kate Winslet.
The film is composed of a series of comedy sketches, with Peter Farrelly, Elizabeth Banks, Steven Brill, Steve Carr, Rusty Cundieff, James Duffy, Griffin Dunne, James Gunn, Bob Odenkirk, and Brett Ratner directing.
Movie 43 will hit theaters January 25, 2013. Check out the Movie 43 red band trailer for more.