Remember those two Oz: The Great and Powerful "art" images that seemed like posters but only had small lettering in the corner? Well, turns out, they were the edges of a full "triptych" poster, and we have the full image for you now. Take a look at it, followed by three new stills (click thumbnails to enlarge):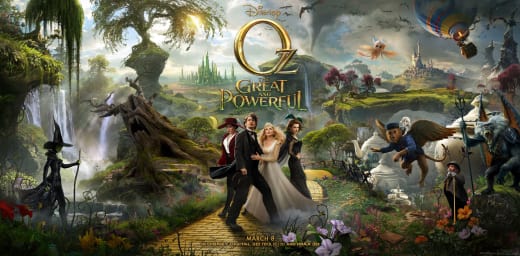 James Franco stars as Oscar Diggs, a circus magician who is transported to the land of Oz where he is assumed to be the fabled Wizard. There, he meets three witches, played by Michelle Williams, Mila Kunis (Black Swan), and Rachel Weisz, who aren't convinced of Oscar's power.
Using his skills to help the land of Oz with an epic problem, Oscar transforms into the Wizard of Oz.
Zach Braff, Joey King (The Dark Knight Rises), and Bruce Campbell also star in the film, directed by Sam Raimi. Oz: The Great and Powerful hits theaters March 8, 2013.