The Academy needs to get over itself and its prejudices against genre films and exhibit "A" arrived this past Friday in the form of James Bond's latest adventure, Skyfall. Audiences must agree... Skyfall scored at the box office.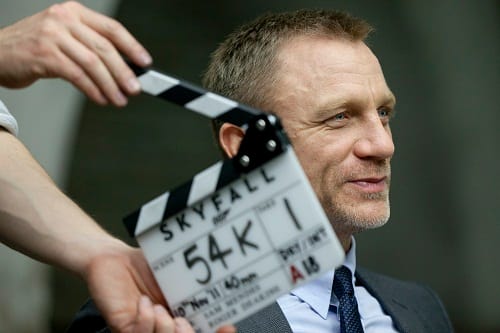 First,
Skyfall
is exactly the type of movie Oscar had in mind when it expanded the potential list of Best Picture nominees to ten. It's a film that is both a critical and box office darling, with many critics not only saying it's one of the best of the series, but one of the finest films this year. Movie Fanatic, in our
Skyfall review
, called on the Academy to nominate the latest Bond film and here are four more reasons why.
Second, the latest story of the Ian Fleming-born hero is an epic in every sense of the word. Oscar loves epics… so why not
Skyfall
? The film is put together with impeccable timing that gives its exotic locales plenty of breathing room to play their role as the ever tense plot boils towards its conclusion.
Third, Oscar-winning director Sam Mendes knows a thing or two about what it takes to craft a film that is worthy of the golden trophy. He utilizes that power with each frame of film as his contribution to the Bond canon is, in our opinion, the best Bond yet. His Oscar pedigree brings a legitimacy to our call for a Best Picture nod for
Skyfall
due to the helmer's deliberate pacing, deftly crafted action sequences and how he produced the best performances of their careers from his cast including
Daniel Craig
, Judi Dench, Ralph Fiennes and Javier Bardem -- all, by the way, also worthy of Oscar consideration for their performances.
Fourth, Oscar has a habit of being swept up in a film's awards campaign that will undoubtedly lead to a coronation with a Best Picture. Don't get me wrong, I adore
Slumdog Millionaire
, but I felt a bit of a hangover in Hollywood about awarding the highest honor to that film in the years since.
Skyfall
is not one of those films. It will age tremendously well and more importantly, show that the Academy has a sense of joy that is shared by the audience it is supposedly coveting to tune in to its annual fest.
Fifth, sure the Oscar for Best Picture went to a
Lord of the Rings
film. But, the win for
Return of the King
was more of a salute to Peter Jackson and his entire series than it was a victory for that final film in the trilogy. The Academy has failed to nominate a fantasy, action or franchise film since… not even
The Dark Knight
. By nominating
Skyfall
, the Academy can show that it is changing its tune and that it doesn't have to only nominate British period pieces, but can appreciate a current British work that is reflective of the world we live in, and the audience who treasures the art form of film.