M80 contacted Movie Fanatic to write a post about the new James Bond, Skyfall inspired phone from AT&T. As a fan of the movie, and the series, it was a no brainer. After all, yours truly proudly presented the Top 10 Bond films, Top 10 Bond themes, Top 10 Bond girls and many more highlights from Bond history… this would be the ultimate experience for a 007 fan -- a real Bond gadget!. But, it has turned out to be so much more.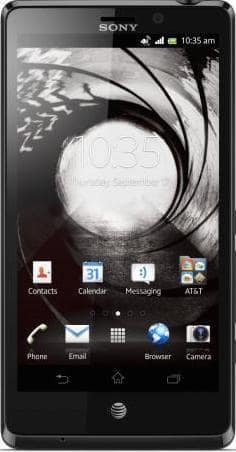 The pre-loaded videos took me inside the world created for the latest Bond flick and only reinforced what was covered in my
Skyfall review
.
Each time I receive a new message, the notification sound is the end of the iconic James Bond theme! The wallpaper is the equally iconic bullet view, but the joy of the Sony Mobile Xperia TL is that it is uncanny in its ability to be inspired by and then go beyond the movie experience. Whether it would work for other franchises, I'm not sure. But for Bond, Xperia and 007 is a match made in heaven. And like Bond himself, it is lightning fast with 4G that makes loading new
Skyfall
videos a true pleasure.
Stay tuned as I delve deeper into the device and discover its deep Bond-like secrets as
Skyfall
is currently in theaters and it will likely be seen by this writer for a third time very soon.