The Star Wars Episode 7 speculation is running wild, and it will likely continue until 2015 when the film is released. Yesterday we brought you a rumor that Matthew Vaughn could direct Star Wars Episode 7, and now we've got some major casting rumors.
Well, not so much rumors as feral conjecture. EW is reporting that Harrison Ford would be willing to reprise his role as Han Solo in the new Star Wars film, which could reunite him with fellow original castmembers Mark Hamill and Carrie Fisher, who reportedly met with George Lucas over the summer.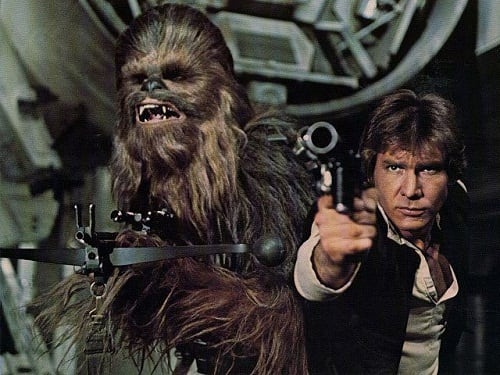 Ford has been vocal about his tepid feelings toward the character, and apparently thought he should be killed off in Return of the Jedi, an idea which was nixed because of toy sales. Yes, the purchasing habits of little kids can effect the story arcs of the epic franchise you hold most dear. With Disney at the helm, this may get worse.
So will Episode 7 focus on Luke, Leia and Han as seniors? Given this news, and the trend lately to bring aging stars back into roles they portrayed decades ago (see: Tron: Legacy, Ghostbusters 3, Wall Street: Money Never Sleeps, and Ford's own Indiana Jones and the Kingdom of the Crystal Skull), it is definitely plausible.