Disney has a brand new toy in the Star Wars franchise and they have been playing with it non-stop. Michael Arndt has written a treatment for the next three films, and is currently working on the first screenplay. Rumors are flying that Matthew Vaughn will direct Star Wars Episode VII. Now, it looks like we may have some news about a spinoff series.
Much like Disney is doing with the Marvel Universe, they may be using their newly acquired property as a way to explore side characters in their own films, while concurrently bringing them together for the main series. This absolutely seems to be where Hollywood is going, with Warner Bros. trying to figure out their DC Comics universe in preparation for the Justice League movie.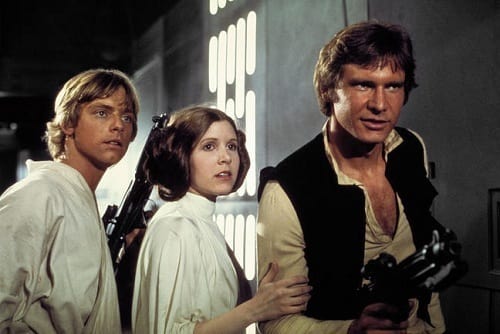 Enter Lawrence Kasdan (who worked on the scripts in the original Star Wars series) and Simon Kinberg (X-Men: Days of Future Past). The pair of writers were previously rumored to be penning Episodes VIII and IX together, but now THR is reporting that they may in fact be working separately on spin-off movies.
The plan seems to be very loose at the moment, and there is no word yet on which characters may be highlighted in the spin-offs. Apparently, the scripts still have the potential to turn into episodes in the main series, with Disney CEO Robert Iger stating that he would like some kind of Star Wars movie to be released about every three years.
Who's hoping for a Jar-Jar movie!?