One of the most lauded films of all time, Sunset Boulevard, lands for the first time on Blu-Ray after an extensive restoration project led by Andrea Kalas, Vice President of Archives at Paramount Pictures. Kalas phoned Movie Fanatic for an exclusive interview taking us deeper into the effort to restore a film whose original negative has been lost.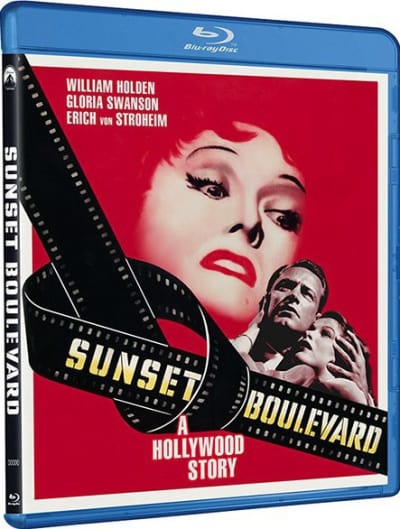 The studio's 100th anniversary may have been the impetus, but Kalas tells us that making
Sunset Boulevard
as pristine as it can be is simply too important of a task, regardless of her studio's anniversary celebration. "It's such a perfect film to celebrate Paramount with. We had the weight that is the importance of this film to do it. We took it really seriously when we approached it," Kalas said.
"That meant two things. One, we tried to find the best original material there was, since the original negative is lost, like it is for a lot of really popular films. The other thing we had to do is really do our homework to ensure we were representing the original vision of the amazing creative forces that made this film, Billy Wilder and Charles Bracket. We really did it. We picked the best elements and tried to do an authentic job."
One of the great things about restoration, Kalas admitted, is you think you know a movie… then you get to work on it. For a film like
Sunset Boulevard
, it was a dream job for a cinephile like her.
"You have to watch it hundreds and hundreds of time and you have to watch specific scenes over and over again when you're making technical correction. It's impossible not to completely understand a film. With a film
Sunset Boulevard
, you totally get lucky because it just gets better and better and better," Kalas said.
With the new restoration on Blu-Ray, audiences will notice things about the film that made it astounding, and its resonance will now reverberate even further. "The editing, construction, the detail of how John Seitz's photography is almost a narrative element when Holden goes in that house for the first time, and the light starts to get darker and darker until he meets Gloria Swanson. You start to notice that everything had a point and purpose. As you can tell, I'm even more in love with this film than ever before."
Just another reason why
Sunset Boulevard
has stood the test of time and is considered one of the best of all time (it sits at number 12 on AFI's list).
"First of all, you could never have made it in any other moment of time. In 1950, there were still people like Buster Keaton alive, so this silent era lived in this ghostly form. Then it's also the moment that television started to take over. It's this incredible time capsule, but at the same time, it's a story that absolutely could be told today, but with different characters," Kalas said.
It is celebrated because it is about Hollywood, something film fans have treasured for decades and now thanks to the restoration, will continue to do so for generations. "It is a story about Hollywood that we can relate to completely. There's a sense of skepticism about the business of Hollywood and the absolute love and affection for all the creative talent that's there at the same time. That's a timeless story told within this incredibly interesting time capsule."
Kalas points out that as she and her team are going through the Paramount archives and marking 100 years of Paramount excellence, the current discussion of digital versus film could not be more relevant. "I hope one of the stories about digital versus film is we are preserving these films not only on film, but also digitally -- so that they can be projected digitally and watched on Blu-Ray. To me, that's exciting and important. We're doing our best work to make sure this film looks as good as it can be and preserving it for people to enjoy," Kalas said.
For many film fans, Kalas believes, the viewing of
Sunset Boulevard
on Blu-Ray in its restored brilliance will force them to alter their own personal
top 10
lists. "I push this up to the top. A lot of people might too when they rediscover it. It will be not only one of Paramount's top films, but one of the best of all time."