Quentin Tarantino is celebrating 20 years as a moviemaker by releasing eight of his iconic films in one Blu-Ray package. They had us with the package's cover, a Mondo art drawing of the man himself, wielding a camera.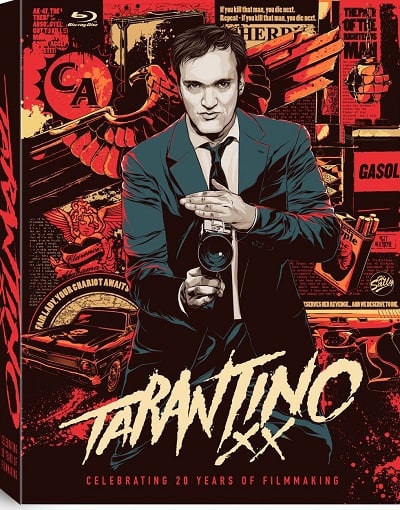 The Blu-Ray set includes
Inglourious Basterds
,
Kill Bill Vol. 1
and
2,
Reservoir Dogs
,
True Romance
,
Pulp Fiction
,
Jackie Brown
and
Death Proof
.
Having all those movies he directed or simply wrote (
True Romance
) in one package would be enough for any Tarantino fan. But, as is the case with most retrospective home video releases, the proof of a set's worth is in the extras pudding. The
Tarantino XX
collection contains five hours of brand new material as part of a 15-hour special features gift to movie fanatics everywhere.
Two full discs in the 10-disc collection feature some stellar material that even non-Tarantino fans can treasure. As a critic, it's easy to see our appreciation for the piece
Critics Corner: The Films of Quentin Tarantino
-- where the filmmaker's excellence is put into perspective.
The 20 Years of Filmmaking
video is just as priceless. It is an in-depth look at the filmmaker from his first feature,
Reservoir Dogs
, through his most recent Oscar-nominated film --
Inglourious Basterds
.
Ridley and his brother Tony Scott are notorious directors for creating Blu-Ray editions of their films that are better than the theatrical (Blade Runner anyone?). As part of the Tarantino XX collection, Tony's True Romance is presented in its Director's Cut form. Of particular note, and a surprising one I know, is the audio commentary for the film given by the man who is honored by this entire collection. Tarantino's insight into the film, as the one who didn't direct it… is as unique a take on the creative mind of Tarantino as exists.
Jackie Brown may be one of Tarantino's must undervalued movies. It's been gaining more and more attention with the passage of time. The creative team for Jackie Brown reunited at a Los Angeles County Museum of Art event for the film recently and a video crew caught the entire event. The bonus feature on their perspective of that film's place in history is truly fascinating and proves that sometimes things do get better with age.

For those of us chomping at the bit for the next chapter in what is proving to be one brilliant career, don't miss the entire collection of
Django Unchained trailers
. Heck, they have to tease you for a genius' next stroke of brilliance while firmly entranced by the box set of Tarantino triumphs!