The Amazing Spider-Man hit theaters rebooting a franchise that many felt was too soon to be revisited. Audiences answered that they were ready, as the film banked $700 million in global box office. Not surprisingly, the sequel is moving forward with news of Jamie Foxx's casting in The Amazing Spider-Man 2. Evidence of why the passionate fan base turned out in droves is available on Blu-Ray and DVD on November 9.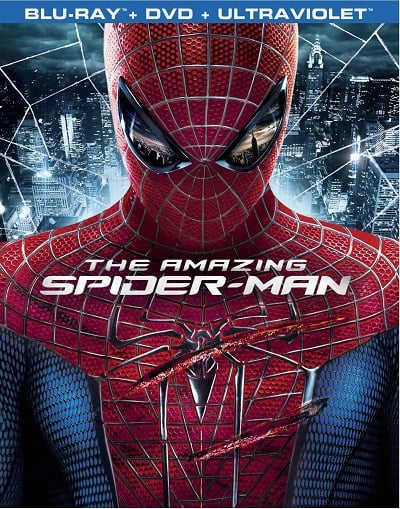 Movie Fanatic received the Blu-Ray/DVD/Ultraviolet combo pack and was immediately struck by even the attention to detail on the embossed box.
Marc Webb, a lifelong Spidey nerd, could not have been a better choice to take the mantle and his casting of Andrew Garfield as Peter Parker/Spider-Man and Emma Stone as Gwen Stacy is nothing short of brilliant. But, that alone does not make a solid film. There has to be a story there.
As stated in our theatrical
The Amazing Spider-Man review
, the film is a solid update of a franchise that had hardly gone grey. The story itself is not too far off Sam Raimi's origins story, but that is not necessarily a bad thing. Peter Parker is a high school student, torn away from his parents at an early age. Through his passion for science, he winds up finding strength he never knew he had on the inside and outside -- thanks to a certain spider bite.
Upon a second viewing on Blu-Ray, especially with the added features, we are even more fascinated by this Webb-ed universe and where it goes from here.
The home video packages features over 90 minutes of behind-the-scenes features. The usual deleted scene feature that is so common, is actually compelling here. One can see why they were left out of the theatrical version, but are still a fascinating addition to this brave new Spider-Man world.
As Sherlock Holmes: A Game of Shadows Blu-Ray did and many more since then, The Amazing Spider-Man Blu-Ray/DVD set comes with a second screen app that allows the viewer to delve deeper into the film on a smart phone or tablet while not interrupting the movie watching experience. The Director's Notebook is an invaluable addition that syncs with the movie while you discover 16 pre-visualization sequences that show how a scene was built. Also awesome from the app is the production timeline that illustrates a filmmaker who is performing a task he was born to tackle.

The third disc in the Blu-Ray/DVD combo package we found incredibly fascinating. It includes the feature film on DVD, but most outstandingly a feature on stunt rehearsals that shows what true courage it takes to bring the action to the screen.