The Collection may be a sequel that leads one to ask, "To what?" But, what's good about the follow-up to 2009's The Collector is witnessing the first is not needed to experience the thrills and chills of the second.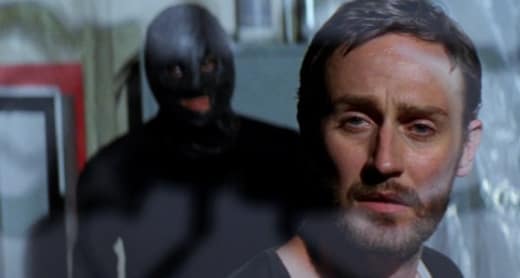 The film stars Josh Stewart (
The Dark Knight Rises
), reprising his role as Arkin from the original. In the opening moments of
The Collection
, we learn that his character is the only person to escape from a serial killer that is wreaking havoc across this nameless city. There are cinematic crazed killers that have become iconic, but few have the utter disregard for human life as our "Collector." He commits mass murder, then "collects" a single survivor and retreats back to the rock which he crawled out from.
Emma Fitzpatrick is Elena, a woman with a troubled past who has managed to come out of her family tragedy with her wits completely about her. She sneaks out from her father's protective grasp one night and joins friends who have an invite to an exclusive warehouse party downtown. Things appear to be perfect. The music is pulsating, drinks are flowing and then... horror hits. There will be no description of the scene in this The Collection review -- that would weaken the terror factor. Let's just say to call it horrifying is a gross understatement.
Elena becomes our villain's souvenir from his latest rampage. Her father finds no evidence that she is among the dead at the club, so he hires a Special Forces type unit to recruit Arkin to use his survival and escape expertise to find this psycho and bring Elena back alive.
Movie Fanatic has to give it to the filmmakers behind this new scare flick. As teased in The Collection trailer, they execute the scares quite efficiently. Yet, this concept is hardly new as it rings slightly familiar to the Saw series with its house trapped with horror mazes and deadly games. That is not a surprise as co-writer and director Marcus Dunstan has previously worked on that series, lastly with Saw 3D. One wonders if Dunstan's latest film was supposed to be something that took the Saw franchise in a new direction and fell on deaf ears with producers.
The cast is comprised of many actors who audiences know their faces, but might not be able to place it. Stewart rises to the occasion, as does The Wire veteran Andre Royo and Oz alum Lee Tergesen as part of the force sent to bring back Elena. And Fitzpatrick does much more with her role as Elena beyond making her a scream queen. The actress knows her character has been through too much to simply scream and run in fear. She fights back and it fits perfectly with the tone of the film.
Since The Collection is a sequel and its ending is ambiguous, count on another chapter as Dunstan has clearly "collected" a new horror franchise for himself.