Although Dolph Lundgren and Jean-Claude Van Damme are back in the world they first headlined back in 1992, Universal Soldier: Day of Reckoning is really a Scott Adkins movie from beginning to end.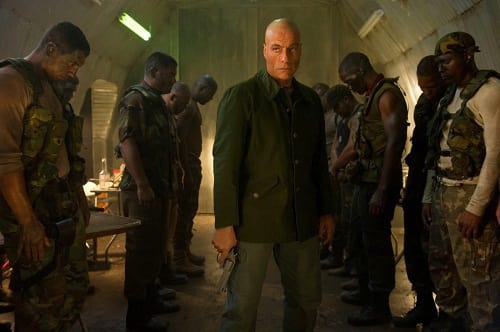 The film commences with Adkins' character John awakening to a home invasion led by Van Damme's Luc Deveraux that puts him in a coma and kills his wife and child. The audience immediately gets the deal with this
Universal Soldier
, this is a vengeance tale... heck, the title would tip that off! As executed by director David Hyams, it is in fact a very scary scene and gets the audience on board with John as he seeks to extol justice.
Van Damme is a larger part of the film than Lundgren, yet he appears to be channeling the same evildoer he gave us in The Expendables 2, albeit with a trippier and more menacing feel. The star is solidifying his action movie comeback with both roles, but the stronger performance is turned in with Sylvester Stallone's sequel.
In Universal Soldier: Day of Reckoning, Van Damme comes at the audience (and John for that matter), with an almost hallucinogenic way. As the story plays out, the audience can see why. In this world of DNA-altered soldiers under the watchful eye of UniSol, the line between real and surreal is razor thin. We wish that it worked, though.
There is no question that the film does two things very well. It further introduces us to Adkins as a kick-ass martial arts/action star. He too was in The Expendables 2 and viewers merely saw the tip of the iceberg of what he can do. With Universal Soldier: Day of Reckoning, he gets to command a role and a film that should catapult him into the upper echelons of action stardom. Secondly, the film firmly establishes Hyams as an action director to watch. It is truly exciting to think what he could do with a property that wasn't 20 years old and in dire need of retirement.
Fans of the series will enjoy the update -- that we can admit in our Universal Soldier: Day of Reckoning review. It is rooted in the mythology of the series of super-soldiers and Lundgren makes the most of his short role in what essentially is a cameo. The film also sets a slightly different tone than the previous installments, and that too is to be commended as it works. It's just that this plot is too convoluted and its effort to have "gotcha" moments with its audience feels a little too predictable and frankly confusing.