It's been a while since we've heard anything about the Jackie Robinson biopic 42. Now we've got three new stills! Click the thumbnails to enlarge.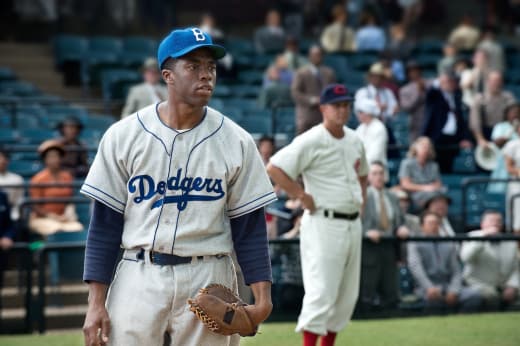 Chadwick Boseman (Lincoln Heights) stars as Robinson, the first African American to play in Major League Baseball. Robinson played for the Brooklyn Dodgers, donning the now Nationally retired number 42 (hence the title). Harrison Ford also stars as Branch Rickey, the General Manager who signed Robinson.
Christopher Meloni (Man of Steel), Alan Tudyk, T.R. Knight, Lucas Black, Nicole Beharie, Brett Cullen, and John C. McGinley also star. Brian Helgeland directs the film, which he also wrote.
42 will hit theaters April 12, 2013. Watch the 42 trailer for a preview.