For the third straight weekend, The Twilight Saga: Breaking Dawn Part 2 has won the weekend box office. Kristen Stewart, Robert Pattinson, and Taylor Lautner earned $17.4 million in tickets, just barely beating out their competitors.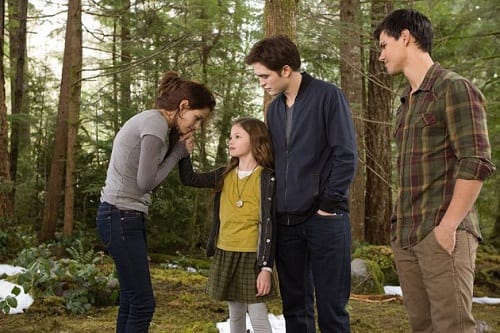 In fact, the two wide releases this weekend did little to shift last weekend's rankings around. The top five has stayed exactly the same, with Brad Pitt's Killing Them Softly opening all the way down in seventh place.
Daniel Craig and Skyfall remained in second with $17 million in gross. Lincoln remained in third, earning $13.5 million. Rise of the Guardians and Life of Pi round out the top five, with $13.5 and $12 million in sales, respectively.
Box office top 10:
1. Breaking Dawn Part 2, $17.4 million
2. Skyfall, $17 million
3. Lincoln, $13.5 million
4. Rise of the Guardians, $13.5 million
5. Life of Pi, $12 million
6. Wreck-It Ralph $7 million
7. Killing Them Softly, $7 million
8. Red Dawn, $6.6 million
9. Flight, $4.5 million
10. The Collection, $3.4 million