Kevin Smith has been meaning to retire from feature film directing. His final film was supposed to be a hockey film inspired by a Warren Zevon song titled Hit Somebody, but now that project is being converted into a TV miniseries, there's room for one more movie to end his career on.
So what will the movie be? Today on Twitter, Smith stated that he'd like it to be Clerks 3. Apparently all he needs is for Jeff Anderson to sign on board, and he's ready to move forward.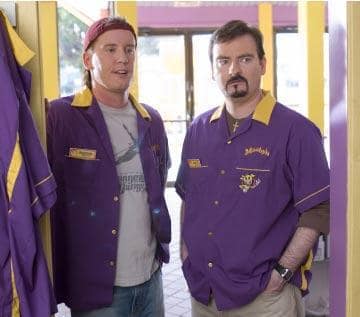 Smith made his name with Clerks in 1994, which follows a pair of slackers working dead-end cashier jobs. The film was then turned into an animated series for a brief time in 2000, before a sequel was released in '06, featuring Smith go-tos Anderson, Brian O'Halloran, Jason Lee (Almost Famous), and Ben Affleck (He's Just Not That Into You).
So far, the project is just a tweet, but there's no reason to think Smith isn't serious about the idea. With the original film's 20th anniversary coming up in 2014, it could make for some perfect promotional synergy. Check out our Clerks quotes page for more.