Ender's Game, an upcoming adaptation of the sci-fi novel by Orson Scott Card, is still almost a year from release. But with shooting having taken place earlier this year, the internet has been treated to the very first still, courtesy of EW. Take a look;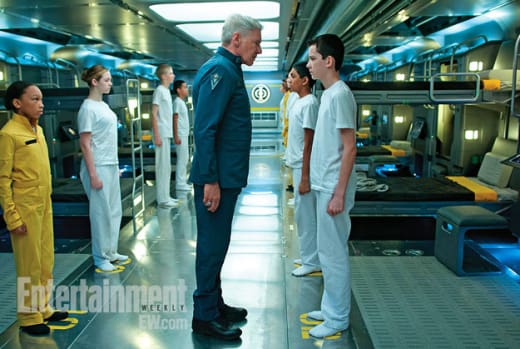 The film stars Asa Butterfield as Ender Wiggin, a young prodigy who is sent to advanced military training in preparation of an alien invasion. Harrison Ford plays Colonel Graff, the man responsible for training the children, with Ben Kingsley (The Dictator) as Mazer Rackham, a legendary Commander who saved the world from a previous attack.
Abigail Breslin, Hailee Steinfeld, and Viola David (Beautiful Creatures) also star.
Gavin Hood (X-Men Origins: Wolverine) directs the film, which he also wrote. Ender's Game is set to open November 1, 2013.