Bill Murray is at it again. With Hyde Park on the Hudson, his monumental turn as one of our most popular presidents has landed him in the Oscar buzz world. Yet he knows how to handle it better this time out as his performance as Franklin Roosevelt is lighting those same award fires he survived in the early 1990's.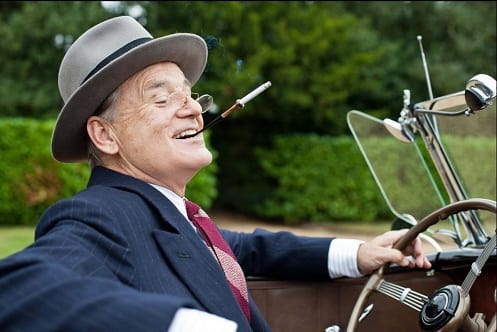 He truly thought he was going to win for
Lost in Translation
, after taking the top prizes from several award shows along the way. "Then I didn't win. I thought, 'Well, that's odd. How odd is that? I'm feeling so odd now.' And I came all dressed up and didn't win. So I'm not going to get all crazy about that," Murray said. "You can't get all ramped up and amped up about this thing all the time. I got excited about it and it was odd. I won all the prizes. I won literally all the prizes all the way up to the last one."
Murray even believed he'd be back in Oscar's glow in no time at all after his Lost in Translation loss. "I really thought, 'Well, I've got to go get this thing, I'll be right back,'" he admitted.
The Oscar loss taught him a lesson in lowering expectations, but also in that the bottom line is people are noticing his work and more importantly, the film. "It was OK that I didn't win. I don't have any hard feelings about it. It was like, `OK, that was cool, I'm fine. I'm fine with the way my career's gone. I'm happy with it. It's gone great.' The great thing about the Oscars that's cool is it means people are going to see your movie."
When it came to rising to the challenge of portraying FDR, for Murray it started quite innocently. "I had to revere the best of him," he said.
That had to start with his voice and what to do with it. For that, he worked with a vocal coach and studied the legions of audio tapes of one of our most popular presidents. "They've got kind of an `oot' and `aboot' thing, like Minnesota, Wisconsin, in there sometimes. It's upstate New York, it's a little bit of Dutch in it, because he's Dutch. It almost sounds Scandinavian. It's just an inconsistent voice," Murray said. "I just tried to get as much of it in me as I could. It jumps around a little bit, so you had to be kind of flexible with it."
As illustrated in the Hyde Park on the Hudson trailer, FDR had practically the weight of the world on his shoulders as the King of England and his wife were visiting his New York state estate to talk about the United States getting involved in what would prove to be World War II.
Murray marveled at how FDR managed to accomplish so much while in the middle of a potential world war while living at his Hyde Park estate, which was almost solely inhabited by women.
"These women are all barking at each other -- the mother, the girlfriend (Laura Linney), the wife, the secretary and the maids. This guy was beleaguered. It was like a henhouse. It was insane. They were all after him. Thank God he had a dog," he said and laughed.
Filming in England was also a test of Murray, but not in how you would think. After all, he is a comedian at heart. "I tried to behave as well as I could. We were working with English people, and that's a test. I still have a lot of revolutionary rage. I just tried to put a damper on that. It was a difficult time for me," Murray said.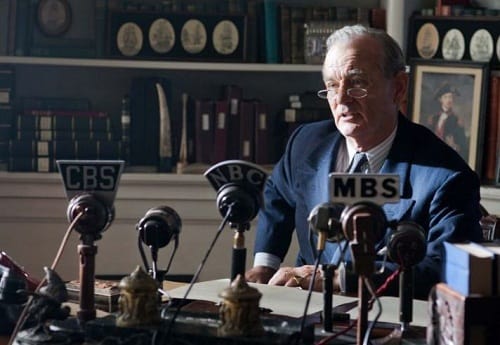 And when it comes to British food… don't get him started. "There's the food over there, which we have to talk about a bit. There's movie food and then there's movie food. None of it's any good. But this gave us a reason to be homesick."
Working in drama for Murray began with a critical slam for his work in 1984's The Razor's Edge. Yet, he kept at it… thankfully so as many of those lie on our Top 10 Bill Murray Movies.
"I remember a certain famous movie reviewer saying, 'Bill Murray should not be allowed to do anything but comedy,' which I reminded him of at the Cannes Film Festival when I was nominated for an Oscar," Murray said and laughed.
In the end, the actor will always have an affinity for comedy. After all, films like Meatballs, Caddyshack and Ghostbusters put him where he is today. "There's really nothing quite like comedy. You don't win Oscars for comedy, but moviegoers seem to appreciate them more."