Iron Man is going through some tough times. It looks like he was beaten up by his bookie because he hasn't paid off his outstanding gambling debts. It's an odd direction to take Iron Man 3, but I don't make the movies, I just write about 'em.
Check out the new still from Iron Man 3, showing a bloody Tony Stark with a broken suit: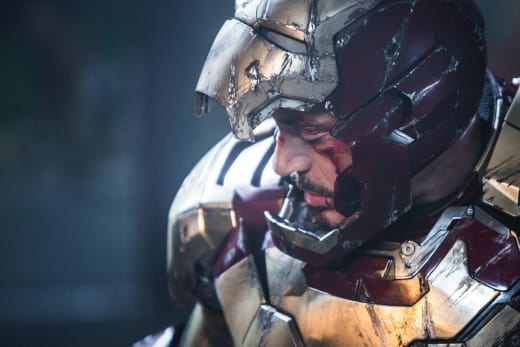 Robert Downey Jr. returns as the snarky superhero in the third installment of the Iron Man franchise. This time, Stark sets out to find the man responsible for destroying his world.
Gwyneth Paltrow, Don Cheadle, Guy Pearce (Lawless), Rebecca Hall, James Badge Dale, Jon Favreau, and Ben Kingsley (The Dictator) also star.
Shane Black directs the film, which opens May 3, 2013. Until then, head to our Iron Man quotes page to revisit the first film.