We're halfway through our list of the Top 100 Films of All Time, and due to the Holidays, this week's and next week's lists will be released on Wednesday instead of Monday.
This week we bring you a list that is chock-full of classics, and three musicals, in #60-51. In fact, the most modern movie on our list this week is from 1975. Read through #100-91, #90-81, #80-71, and #70-61, then check out this week's list below: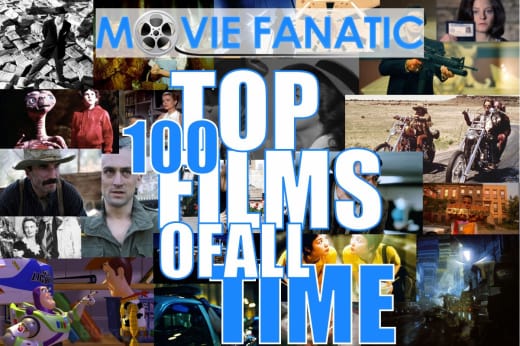 60. Ben Hur
Ben Hur arrived in 1959 and chronicled the triumphant story of a Jewish slave who rode his way to immortality in what was at the time, the most expensive movie ever made. The epic was directed by William Wyler and featured Charlton Heston in one of his most iconic roles. It won a record 11 Oscars, including Best Picture. Above many triumphs, the film will best be known for that riveting chariot race. Check out some Ben Hur quotes for more.
59. From Here to Eternity
While somewhat sluggishly paced for the modern movie-goer, this classic war-time romantic drama features some incredible acting from stars Burt Lancaster, Montgomery Clift, Frank Sinatra, Ernest Borgnine, Deborah Kerr, and Donna Reed. From Here to Eternity features an unforgettable love scene on the shores of Oahu between Lancaster and Kerr, and garnered 8 Academy Awards from 13 nominations. Head to our From Here to Eternity quotes page.
58. Singin' in the Rain
One of the best musicals of all time, if not the best, starred Gene Kelly, Donald O'Connor and Debbie Reynolds. Try thinking about the movie and not find yourself humming its theme song. Singin' in the Rain is considered Kelly's most legendary moment, what with him providing the film's choreography as well. An interesting fact is the film was only a modest hit when it hit screens in 1952, but became wholeheartedly adored in subsequent years. Read through some Singin' in the Rain quotes for more.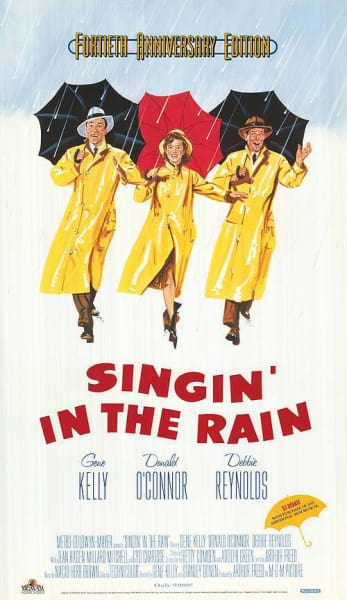 57. Willy Wonka and the Chocolate Factory
Gene Wilder delivers one of the most memorable performances in film history as the eccentric chocolatier Willy Wonka in this delightful musical adaptation of the Roald Dahl novel. Director Mel Stuart creates a magical world in what may be one of the best ever examples of a movie that both kids and adults can enjoy equally. Wonka won an Oscar for best original score in 1972, and the soundtrack still holds up today. Check out our Willy Wonka and the Chocolate Factory quotes page.
56. My Fair Lady
My Fair Lady arrived at the world's cinemas with a bit of controversy. The original star of the stage musical, Julie Andrews, was considered a shoe-in to make the leap to the silver screen. Instead, filmmakers gave the role to Audrey Hepburn. Audiences were angered, but upon seeing the film, quickly forgave and celebrated the woman who became forever be associated with the role. It is frankly hard to imagine anyone else portraying Eliza than the icon herself. Head to our My Fair Lady quotes page for more.
55. The Philadelphia Story
Cary Grant, Katharine Hepburn and James Stewart are electric in this quintessential "Comedy of Remarriage." The film marked Hepburn's revival after being considered a "box office poison," and was nominated for six Academy Awards. Check out some The Philadelphia Story quotes to see why.
54. Rebel Without a Cause
James Dean only made a handful of movies and each one is as heralded as the rest. Yet, there is something about his 1955 work, Rebel Without a Cause, that stands above them all. It probably has to do with the fact that it was this film forever endeared Dean to the hearts of millions of movie fans. It is also one of the rare films selected to sit in the Library of Congress' National Film Registry for being "historically significant." Read some Rebel Without a Cause quotes for more.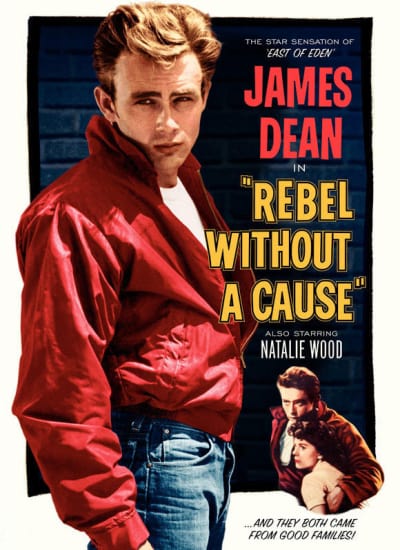 53. The Maltese Falcon
On any list of the best films of all time, Humphrey Bogart is bound to make more than a few appearances. This classic film noir has Bogart doing what Bogart does best: brooding, romancing, and wielding a gun (or two). All-star filmmaker John Huston, makes his directorial debut with The Maltese Falcon, which earned three Academy Award nominations. Head to our The Maltese Falcon quotes page for more.
52. Nashville
Robert Altman became synonymous with the ensemble film, often times gathering an all-star cast that are among the best in history. He truly began that journey with the 1975 instant classic, Nashville. The movie follows a group of people, all involved in the booming country music business. With an astonishing 24 characters, Altman showed his talent for giving every role enough of an arc that the vast scope of people intertwining in his story enhances the film instead of diluting it. Check out some Nashville quotes.
51. On the Waterfront
It truly is remarkable to see Marlon Brando's pioneering acting prowess on display. In no film is the context of Brando's genius more apparent than On the Waterfront. The film follows an ex-prize fighter battling corruption in his Longshoreman Union. Brando's "I coulda been a contender" monolgue and other On the Waterfront quotes are among some of the most memorable of all time.