Last week we launched the countdown of our list of the Top 100 films of All Time, with #100-91. Now, we bring you  #90-81! Check back with us every Monday as we release our next groups of ten, leading up to the best film of all time (well, as we see it at least)!
Scroll down to read the list, and let us know what you think in the comments section at the bottom!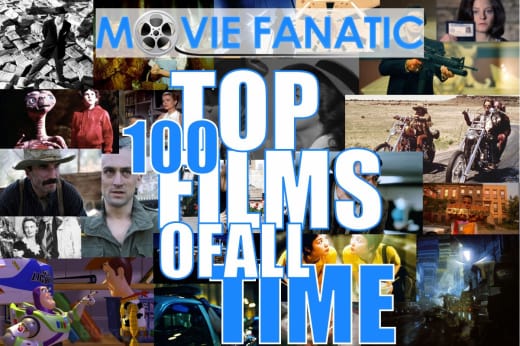 90. Misery
An author, played by James Caan is held captive by a crazed fan who rescues him from a car wreck in this psychological horror classic from Rob Reiner. Kathy Bates gave an Oscar-winning performance as the subtly psychotic nurse Annie Wilkes, in one could easily be called one of the best horror films of all time. Check out our Misery quotes page for more.
89. Chungking Express
Hong Kong cinema's first entry in the Movie Fanatic Top 100 of All-Time is an astounding story of two cops hopelessly lost in a love that may or may not end well. The film is glorious to watch, with its rich colors and capturing of motion. Chungking Express follows the two policemen in parallel storylines and director Wong Kar Wai masterfully weaves between the two. Be sure to visit our Chungking Express quotes page.
88. Midnight Cowboy
Jon Voight stars as a naive cowboy-turned male prostitute in his first major film role. Midnight Cowboy paired Voight with a fresh-off-The Graduate Dustin Hoffman as the sickly con man Ratso Rizzo. The John Schlesinger film was the first X-rated film to win the Academy Award for Best Picture, which is a testament to its brilliance (the rating has since been changed to R). Head to our Midnight Cowboy quotes page for more.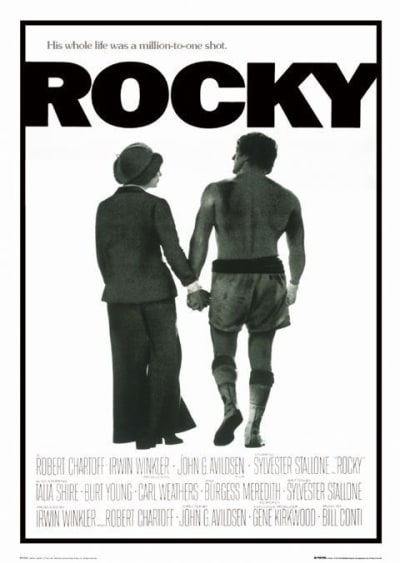 87. Rocky
The film Rocky is itself a David and Goliath story in that it was a small little movie, written by a little known actor named Sylvester Stallone that would go on to win the performer an Oscar for Best Picture and a nomination for Best Screenplay. Sure, sequels would come and go, but there is nothing like witnessing Rocky when he was visiting Adrian in that pet shop with as innocent as a romance as we've seen since or before. And who cannot well up at the end of the film when he achieves the impossible as Rocky takes the microphone and says, "Adrian, we did it!" Oh yeah, that Bill Conti score doesn't hurt either! The film also produced its share of timeless Rocky quotes.
86. Amadeus
This oft-referenced 90's classic tells the story of the brash and arrogant Wolfgang Amadeus Mozart, and his peer-turned-secret-rival Salieri. Brilliantly akin on the themes of art, inspiration, and jealousy, the Oscar-winner received eight nominations in total. F. Murray Abraham and Tom Hulce star, with celebrated filmmaker Milos Forman directing. Head to our Amadeus quotes page for more.
85. Sunset Blvd.
Billy Wilder makes another appearance on the Movie Fanatic Top 100 with his 1950 masterpiece, Sunset Blvd. It is a classic tale of changing times and how that shift is seen and felt in Hollywood. Stars that were enormous during the silent era are still around, although most had not worked in years. We meet Norma Desmond, as played by Gloria Swanson, a star whose power has been dimming for years now. Sunset Blvd. expertly shows how change and specifically aging is difficult, particularly in a town known for celebrating the young. How real is the feel of the film? A true Hollywood original makes a cameo, Cecil B. DeMille… and it gives us one of many iconic Sunset Blvd. quotes. "I'm ready for my close-up, Mr. DeMille."
84. The Sting
The Sting featured two of movie audiences' favorite performers, Robert Redford and Paul Newman, in the same film (and not for the only time...stay tuned for maybe another one somewhere further up the list...wink wink)! The 1973 movie follows two 1930's con men as they seek to simultaneously get revenge for their murdered partner while robbing the evil banker who had the guy killed. Not only was a crime caper that is as relevant today as it was in the early 1970's, it also gave Ragtime icon Scott Joplin a visibility boost thanks to the film's use of the song The Entertainer. Head to our The Sting quotes page for more.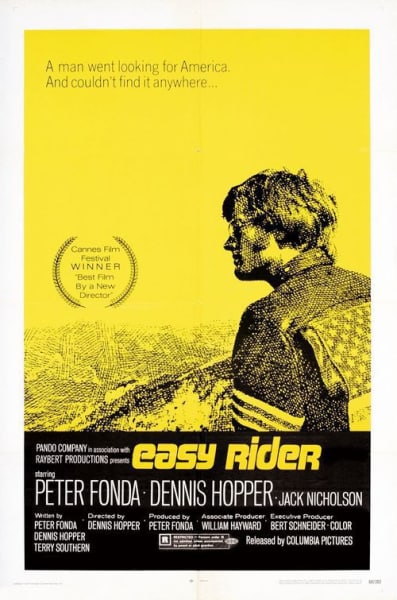 83. Easy Rider
The movie that defined the counterculture of the 1960's, Easy Riser was Dennis Hopper's baby and the actor/director/writer permanently put himself on the legends of cinema map with his 1969 work. It's easy to think back on the flower power decade as one of peace, love and happiness. But, for hippies and those seeking a different way of life than the typical Norman Rockwell America, it was a difficult road marked by prejudice and, as seen in Easy Rider, outright violence. Can't get enough of this film? Don't miss our Easy Rider quotes.
82. Pi
Darren Aronofsky burst onto the scene with his first major film. The directed who would later go on to helm Requiem for a Dream, the Wrestler, and Black Swan, established his signature themes of obsession and self-destruction in this darkly disturbing tale of a number theorist seeking a key to the patterns of nature. Check out our Pi quotes page for more.
81. Some Like it Hot
For many, and Movie Fanatic is one, Some Like it Hot is the quintessential Marilyn Monroe movie. Yet it is the witnessing of movie icons Tony Curtis and Jack Lemmon in drag that makes this film memorable. Directed by Tinseltown legend Billy Wilder, Some Like it Hot is as classic a comedy as Hollywood makes. Curtis and Lemmon's musicians witness a mob hit and must go incognito as part of an all girl band that also features Monroe. The movie is hilarious, has great musical numbers and best of all… stands the test of time. Check out our Some Like it Hot quotes.