I hate it when movies do this. They reveal the biggest, most action-packed scene in a still before the thing even hits theaters! Pacific Rim is no different, as the new still shows us the hair-raising "finger-point" scene between Idris Elba (Thor: The Dark World) and Rinko Kikuchi.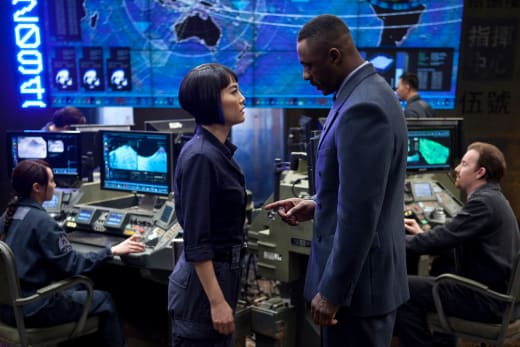 The high-concept monsters-vs-robots takes place in a world where giant monsters have emerged from the ocean and ravaged mankind.
With their resources depleted, and the fleet of giant manned robots called Jaegers destroyed, the world's last hope is an ex-pilot, played by Charlie Hunnam, and a young trainee, played by Kikuchi, who must un-retire an old Jaeger and defeat the monsters.
Charlie Day, Robert Kazinsky, Max Martini, Ron Perlman (Drive) also star, with Guillermo Del Toro directing. Watch the Pacific Rim trailer for more.