You may or may not have noticed, but Guillermo Del Toro's upcoming sci-fi action film Pacific Rim hasn't been released yet. In the land of movie sequels, however, that doesn't really matter!
Yes, a full 8 months before the film hits theaters, Heat Vision has announced that screenwriter Travis Beacham will co-write the Pacific Rim sequel with Del Toro. It is unclear as of yet whether Del Toro will return to direct, as he recently committed to the horror film Crimson Peak, but production on PR2 is expected to begin at the beginning of 2014.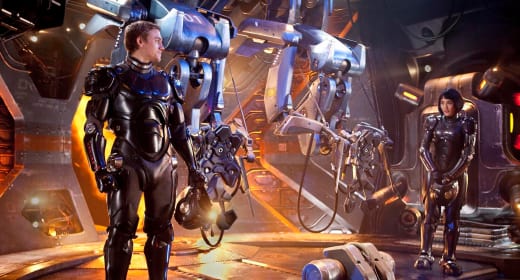 No plot details are available for the sequel, nor will they likely be for some time, though we do know what the first film will be about. When an army of giant monsters arises from the sea, a fleet of robots, powered by human minds, is deployed to defend humanity. At the brink of destruction, with the robot fleet failing, a pilot and a trainee, played by Charlie Hunnam and Rinko Kikuchi, must pull a legendary but obsolete robot out of retirement as mankind's last hope.
Idris Elba (Thor: The Dark World), Ron Perlman, and Charlie Day (Horrible Bosses) also star. Pacific Rim opens July 12, 2013.