A new still from Star Trek Into Darkness has dropped, featuring Benedict Cumberbatch (The Hobbit: An Unexpected Journey) as the villain, imprisoned behind glass. Judging from the way movie villains have been working this year, I'm guessing he won't be behind there for long.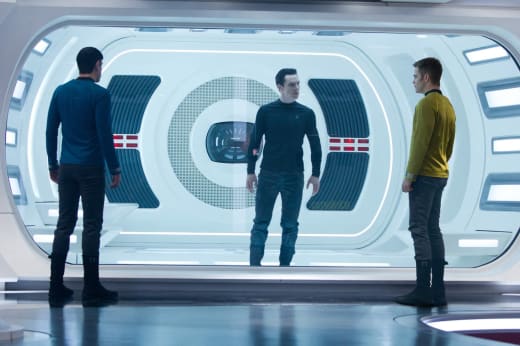 Chris Pine (who voices Jack Frost in Rise of the Guardians), and Zachary Quinto return as Kirk and Spock in the sequel to J.J. Abram's 2009 film Star Trek. The new film finds the Enterprise crew fighting an unstoppable force that attacked Starfleet back on Earth.
Karl Urban, Zoe Saldana, Anton Yelchin, Jon Cho, and Simon Pegg also star.
Star Trek Into Darkness will hit theaters May 17, 2013. Fans who head to the theaters this weekend for IMAX screenings of The Hobbit: An Unexpected Journey will get to see a 9-minute 3D IMAX preview of Into Darkness. Watch the Star Trek Into Darkness trailer for more.