The long wait is over. The Hobbit: An Unexpected Journey has arrived!
Bilbo, Gandalf, Thorin, Smaug, and Gollum begin The Hobbit franchise today, based on the book by J.R.R. Tolkien. Peter Jackson returns to helm this prequel to his Lord of the Rings series. The second and third parts, The Desolation of Smaug and There and Back Again come out December 13, 2013, and July 18, 2014, respectively.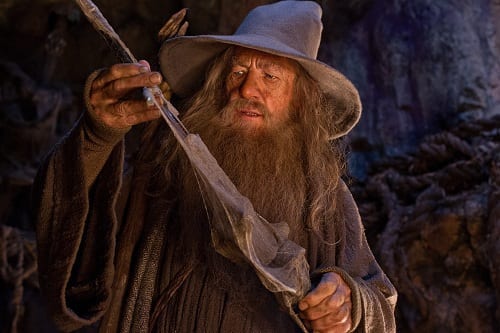 Shot at a higher frame rate, at 48 fps, Jackson hopes to revolutionize filmmaking in the same way that 3D did, providing a cleaner viewing experience with no "strobing" or eye strain.
If you saw a Midnight screening, we want to hear about it! Did you notice that new framerate? How did you like the performances of Martin Freeman, Ian McKellen, Richard Armitage, Benedict Cumberbatch (Star Trek Into Darkness), and Hugo Weaving (Cloud Atlas)? Are you excited about the next two installments?
If you didn't stay up late to be among the first to see The Hobbit, leave your comments below as you trickle back from the theater.