After yielding to two new releases on Christmas Eve, The Hobbit: An Unexpected Journey is back on top for the third weekend in a row. The film took in $32.9 million in the final days of the year, reaching $222.7 million in total domestic ticket sales.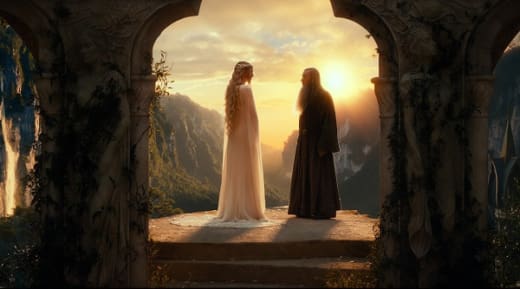 Coming in second place is Django Unchained. Quentin Tarantino's new film grossed $30.7 million over the weekend, after opening in second place on Christmas Day. After being open for just under a week, Django has earned a total of $64 million.
Les Miserables, which opened in first place on Christmas, came in third place in its first weekend in theaters. Hugh Jackman, Russell Crowe, Amanda Seyfried, and Anne Hathaway earned $28 million, bringing its total one-week gross to $67.5 million.
The new film Parental Guidance, and the second-week film Jack Reacher fill out the top five. The family comedy and Tom Cruise action film grossed $14.8 million and $14 million, respectively.
Box office Top 10:
1. The Hobbit: An Unexpected Journey, $32.9 million
2. Django Unchained, $30.7 million
3. Les Miserables, $28 million
4. Parental Guidance, $14.8 million
5. Jack Reacher, $14 million
6. This is 40, $13.2 million
7. Lincoln, $7.5 million
8. The Guilt Trip, $6.7 million
9. Monsters, Inc., $6.4 million
10. Rise of the Guardians, $4.9 million