For Ian McKellen, he doesn't like anyone using the "f" word to describe J.R.R. Tolkien's work as it heads to the big screen. "It's not a franchise, they're films. This isn't X- Men," he said.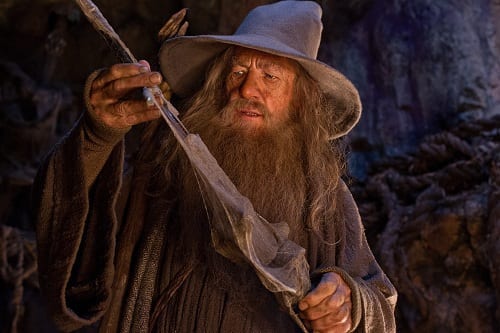 As
The Hobbit: An Unexpected Journey
takes place 60 years before
The Lord of the Rings
trilogy, it required
Ian McKellen as Gandalf
to be younger. Clearly, he did not mind as the legendary actor appears to prefer Gandalf the Grey.
"Gandalf the White, who is in the second of the Lord of the Rings movies, is on a mission and he has to save the world, or help to save the world. And so he's cut his beard and gone White in the process and doesn't have time for jokes. But that's the story of where the hero doesn't make it back home," McKellen said.
"Bilbo gets back home because he's on an adventure and it's different. He doesn't need Gandalf the White to look after him. He needs the Grey who he can have a smoke with and a drink with. They gradually learn to trust each other and like each other's company. It's on a much more human level that befits the quality of the adventure they're going on. There's more range for the actor in Gandalf the Grey which is why I selfishly prefer doing him."
McKellen believes that Tolkien is spot-on with his portrayal of the world, minus a few items. "I think there are limitations in Tolkien's view of the world. I mean, where is sex? Where are women? But in other aspects he is absolutely bang up to date," he said and laughed.
For one, he appreciates his view of those individuals with years of experience under their belt.
"He takes old people very seriously and gives them their full weight and due and young people he's very keen on. And I think the message that has resonated with everyone who has read the books or seen the films, is that, yes, the world is organized by people who are extremely powerful and have an overview, and are concerned for the preservation of Middle Earth. But they are entirely dependent on the little guy. And for someone who had been through two world wars to accept that, that it's not the great people we build statues that change the world, it is the foot soldiers who measure up to the moment and we can understand that."
And for those who are quick to state that Jackson has gone for the money when it comes to making The Hobbit a trilogy, McKellen believes they are way off.
"Anybody who thinks that Peter Jackson would fall for marketing forces rather than the artistic imperative doesn't know the guy and his body of work," McKellen said. As told to us in our Peter Jackson interview, the helmer clearly agrees.
The man who is Gandalf knows who these films are truly for, and they would be missing much if it were just one. Plus, better for young film fans to watch something brilliant a million times, versus some of the garbage out there.
"If we'd just made one movie of The Hobbit, then all of the fans, and I'm thinking of the eight, nine and ten-year-old boys and girls, would watch it a thousand times but they've now got three films they can watch a thousand times. It isn't enough. Talk to any nine-year-old, they haven't just seen Lord of the Rings once, they've seen it twice, maybe three times in a day! How much better they should be seeing a great film with huge artistic achievement than other things they could be watching?"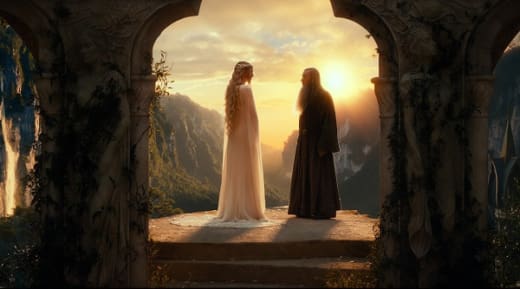 The actor's favorite scene in The Hobbit: An Unexpected Journey, amongst all the grandeur of Jackson's epic, is a quiet scene between him and Cate Blanchett where they extol the virtues of the smaller things.
"We had appeared in the same scene at the end of the Lord of the Rings movie but we hadn't met. They photographed us separately. For two weeks, there she was in person. We had such a congenial relationship. We had so much to talk about. And we got extremely close and affectionate with each other. Her husband wasn't around," McKellen said and laughed.
"There was a moment when she just adjusted my hair, but I think it was Cate rather than Galadriel, and I think it's made it into the movie and I'm still rather shaking."
It wasn't just the chance to be in a scene physically with someone he admired, what the two characters discussed, McKellen feels, is deeply powerful.
"We're talking about something that Gandalf feels very strongly. It's about the little guy that we need who may be expendable, who may not come back. And it's one of the things I remember most about us working together. When Martin (Bilbo) said, 'Am I going to come back? Can you promise that?' and I say, 'No,' not many commanders would say that to their soldiers. It's a chilling, but heartwarming moment."