Yesterday, the first still from The Hobbit: There and Back Again debuted, featuring Legolas and Bard the Bowman. Now, we're jumping back from the third film to the second film, as EW has released a still from The Desolation of Smaug.
The photo features Bilbo, played by Martin Freeman, on the pile of gold that himself and the dwarves seek for most of the novel. This means that the main arc of J.R.R. Tolkien's The Hobbit may resolve itself in the second film, leaving the third film as a sort of appendix comprised of additional materials Tolkien wrote about The Hobbit's characters. Take a look: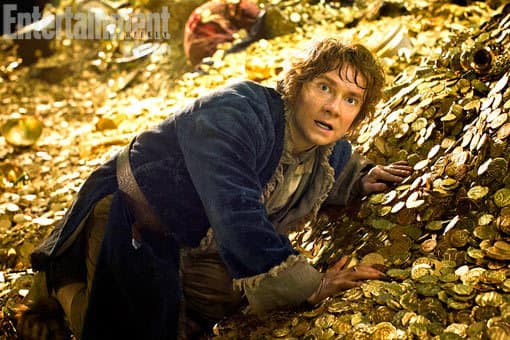 Freeman stars alongside Ian McKellen, Richard Armitage, Andy Serkis, Benedict Cumberbatch (Star Trek Into Darkness), Hugo Weaving, and more in the three-part series.
Fans can catch the first installment, An Unexpected Journey, in theaters December 14. The next to parts will be released on December 13, 2013, and July 18, 2014.