The Hobbit: An Unexpected Journey has yet to be released, and there's already a new still from the third installment, The Hobbit: There and Back Again! Of course, director Peter Jackson originally shot two films at once, with the second film being pushed back to make room for a third film between them.
We're not 100% sure which pieces have been shot for which films, but Luke Evans' Bard the Bowman and Orlando Bloom's Legolas clearly had some scenes finished. Take a look at the still, which comes courtesy of EW: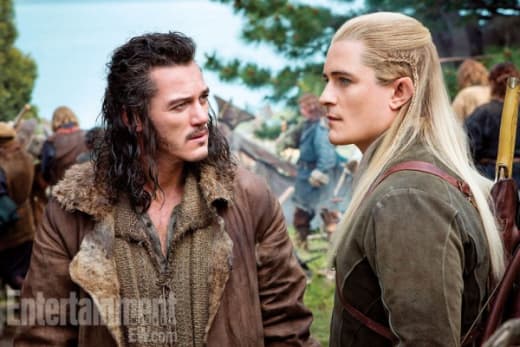 While J.R.R. Tolkien did not write Legolas as a character until The Lord of the Rings, Jackson explains that because Elves are immortal, and Legolas' father Thranduil is a character in The Hobbit, it made sense to bring the popular character back.
Fans will have to wait until Jul 18, 2014 to see There and Back Again. In the meantime, An Unexpected Journey, starring Martin Freeman, Ian McKellen, Hugo Weaving (Cloud Atlas), and Benedict Cumberbatch (Star Trek Into Darkness), opens December 14.