Naomi Watts has been down the Oscar buzz road before and she is firmly planted there yet again for her astonishing work on The Impossible. After learning she was one who scored a nomination with the Golden Globe nominations, her odds of an Academy nod grew ever higher.
Watts portrays Maria, the matriarch of a family taking a vacation at the wrong place and at the wrong time. It is 2004 and she and Ewan McGregor's Henry have taken their family to a Thailand beach resort merely hours before the worst tsunami in human history strikes. 
Watts tells us in our exclusive video interview the extra challenge that it is portraying a real human who has lived through an extraordinary experience... as so heartbreakingly felt in The Impossible trailer. She's done it before (as Valerie Plume in Fair Game), but this time it was different. "It's great to have someone to speak to you to get closer to the character. But there's a level of responsibility knowing the level of suffering that they went through," Watts said. "And she's just a small part -- there were hundreds of thousands of lives that were affected."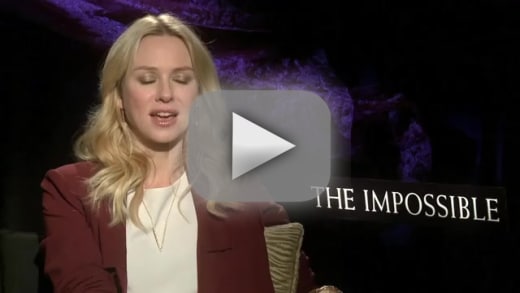 The Oscar-nominated actress also told us about where all this buzz she's getting for The Impossible sits in her mind and how someone survives the roller-coaster that is awards season.
"Try my best not to [listen to it]. It is a bit of waving the carrot. It's hard not to want it," Watts said and laughed. "It's a road I've been down before, and it's nice to be recognized by your peers."