We just celebrated the survival of the Mayan Calendar's doomsday prediction with some apocalyptic movie quotes. Now, some more "end of the world" material has dropped.
The first still for the upcoming movie The World's End has dropped. Take a look: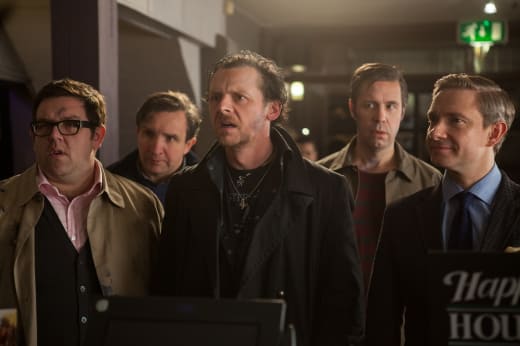 Edgar Wright and Simon Pegg's "Three Flavours Cornetto Trilogy," including Shaun of the Dead and Hot Fuzz, comes to an end with this latest film. It follows a group of friends who embark on an epic pub crawl that concludes at the legendary bar "The World's End." Over the course of the night, they begin to realize that there is more at stake than their livers: all of mankind.
Pegg stars, with Nick Frost, Martin Freeman (The Hobbit), Eddie Marsan, and Rosamund Pike.
The End of the World hits theaters October 25, 2013.