Arnold Schwarzenegger met Movie Fanatic over the weekend to talk about his latest film -- teased in The Last Stand trailer -- and towards the end, the conversation turned to the shooting in Newtown, Connecticut. The former governor of California was eloquent and made some interesting points about the larger issues involved and how we progress here in Hollywood as a town that makes violent movies, and also as a nation and the broader culture as a whole.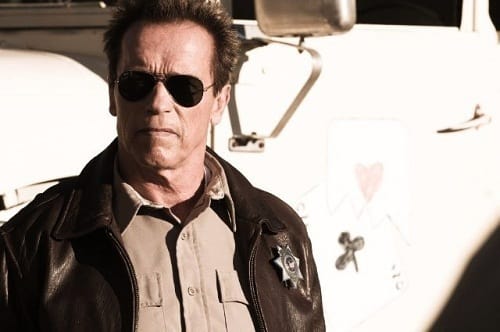 The star of his fair share of action flicks stressed that it is important to
not
connect the two issues of gun violence in society and violent movies coming out of Tinseltown. "It's two different issues -- always keep it separate," Schwarzenegger said. "This is entertainment, and the other thing is a tragedy beyond belief and it's serious and the real deal."
The superstar believes that it is of the utmost importance that the public needs to put a mirror up to itself when horrors happen as they did in Newtown. "I think whenever you have a tragedy like that, you will be foolish not to look into all ways of what can we do as a society to improve the situation and to reduce the risk of those kind of issues happening again," Schwarzenegger said. 
Hollywood has a part in the discussion, but in the end it comes down to our gun laws in America and he stressed that it is not a crime to discuss how to better ensure our collective safety and we should not shy away from making it harder for people to get guns.
"Will it go away? No, it will never go away, but we always have to make a 100-percent effort to use those moments and to figure out ways of, how can we do better? How can we do better with gun laws? If there is any loophole, if there is a problem there, let's analyze it," Schwarzenegger said. "Let's not jump to conclusions, let's analyze."
The shooters in the Aurora, Colorado movie theater shooting and the one recently at the elementary school in Connecticut both share the trait of being mentally unstable. The former public servant thinks we also need to take a hard look at how we treat mental issues in the U.S., instead of being quick to blame the violent movies that have made up a large part of Schwarzenegger's career.
"Also, let's find out if we are really dealing with the mental problems the right way as a society. Do we have a mechanism in place that if we see someone that is unstable, what do we do with that person? Remember, we are not in China or some country where you make people disappear," he said.
"In America you can't just arrest someone because they act strange. So you have that problem and we have to deal with that. What do we do with that, when we see someone that is unstable? And so we have to analyze how do we deal with mental illnesses, how do we deal with the gun laws, how do we deal with parenting? Does a mother need to collect those guns and take her little kids shooting?"
When it comes to a violent tragedy where innocent lives have been lost, the man has the unique position of being a star of violent movies and a policy maker who ran one of the country's biggest states. He wants all options to be on the table as we head forward in our efforts to minimize these tragedies from occurring in the first place.
"Everything has to be analyzed, no stone unturned," Schwarzenegger said. "And I think that's what we owe to our people. I think that's what they ought to do, rather than make it political."
Be sure to stay with Movie Fanatic for our entire Schwarzenegger interview debuting January 14 as he talks what it's like to be back in Hollywood making movies again.