Okay, so technically speaking, this is TV news. But since Batman has been mostly a big-screen endeavor (no, I'm not forgetting the comics and cartoons) for the last few decades, we think we're allowed to cover it.
The original batmobile from the 1960s TV show starring Adam West is up for auction at the 42nd Annual Barrett-Jackson auction in Scottsdale, AZ this weekend. CEO Craig Jackson said he expects the vehicle to sell for at least $4 million, and that it could easily top $5 million.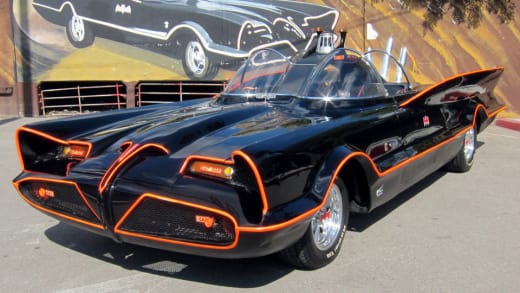 The batmobile has had many incarnations, between the TV show, Tim Burton's Batman series, Joel Schumacher's Batman Forever and Batman and Robin, and Christopher Nolan's franchise that culminated last year in The Dark Knight Rises.
The car is expected to be sold to an institution such as a museum or movie studio, though personal buyers are more than welcome.
Have any of the future iterations of Batman's car been able to top the original? Would you be willing to spend $5 million on the iconic black, winged, orange-trimmed, masterpiece? If so, you should head to Scottsdale this weekend, because you may not get another chance.