EW has provided us with our first look at The Hunger Games: Catching Fire by way of a cover featuring Sam Claflin and Jennifer Lawrence. Take a look: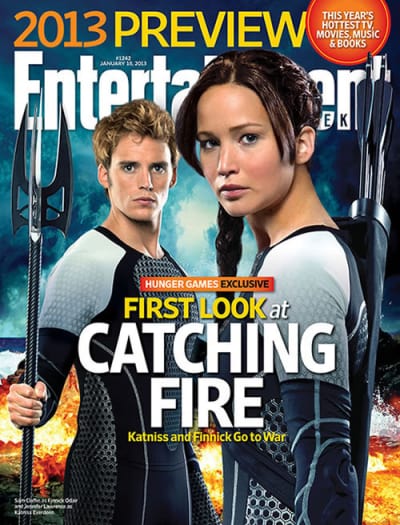 Lawrence reprises her role as Katniss in the Hunger Games sequel, with Claflin joining on as the hunky tribute Finnick Odair. The film finds Katniss and Peeta, played by Josh Hutcherson, on a Victors Tour as the districts prepare for the 75th Annual Hunger Games, known as the Quarter Quell.
Much of the Hunger Games cast returns, with some new faces joining on. Liam Hemsworth, Woody Harrelson, Elizabeth Banks, Lenny Kravitz, Stanley Tucci, Donald Sutherland, Phillip Seymour Hoffman, and Jena Malone also star.
Catching Fire is set to premiere November 22. Take a look at the first Catching Fire poster for another look.