Hunger Games fans have some mixed feelings about Sam Claflin as Finnick Odair, but from the looks of this new still from Catching Fire, Katniss Everdeen doesn't: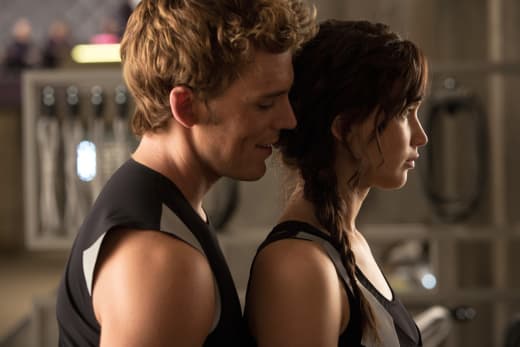 Jennifer Lawrence, who just won a Golden Globe and has also received an Oscar Nomination for her work in Silver Linings Playbook, returns as Katniss in the sequel to The Hunger Games. The film finds her on the Victor's tour as President Snow prepares for the 75th Annual Hunger Games, also called the Quarter Quell.
Philip Seymour Hoffman (The Master), Donald Sutherland, Liam Hemsworth, Woody Harrelson, Elizabeth Banks, Lenny Kravitz, Stanley Tucci, Sam Claflin, and Jena Malone also star.
The Hunger Games: Catching Fire is set to premiere November 22. See more of Sam Claflin and Jennifer Lawrence on this EW cover.