Dredd may not have wowed audiences with its disappointing showing at the box office, but don't mistake that lack of theatrical interest for it being a lackluster film. Karl Urban wows as the title character in the remake of the Sylvester Stallone 1990's movie that finally gets the Judge Dredd story right.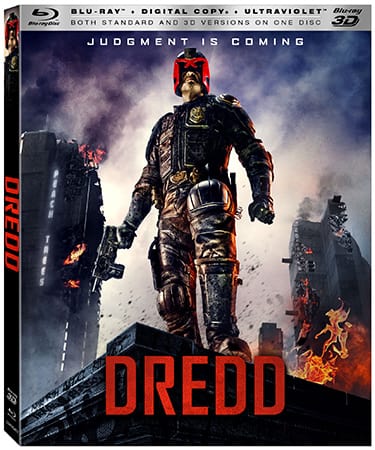 Movie Fanatic received the film's Blu-Ray/DVD Combo pack which also included the 3D version of the film, should we invest in a 3D television in the future. As we stated in our Dredd 3D review when the film hit theaters, not only was Urban an impeccable choice to portray the graphic novel hero, but director Pete Travis and writer Alex Garland are all huge fans of the series and that passion for it shows on every frame.
As told to us in our Dredd interview with Karl Urban, this film was a dream come true for him and now it is for fans of the series as well.
The post-apocalyptic lawman is both judge and jury in a time where lawlessness runs rampant. Where the Stallone version played up the camp, Dredd paints a world as real as can be. Most of the country has been destroyed except for an urban stretch of land that goes from New York City to Washington, D.C. The criminals outnumber the cops almost 100 to one, so it was deemed imperative to create an elite police force that can arrest and extol justice in one fell swoop.
As teased in the Dredd trailer, our hero is given a partner -- albeit reluctantly. Only Olivia Thirlby's Anderson is no wallflower... she possesses psychic powers that are a perfect compliment to the brute force of her partner. Together, they make an unstoppable team. How tough are they? The crux of the film finds the two battling an army of baddies (led by Lena Headey as Ma-Ma) in a high-rise apartment building by themselves!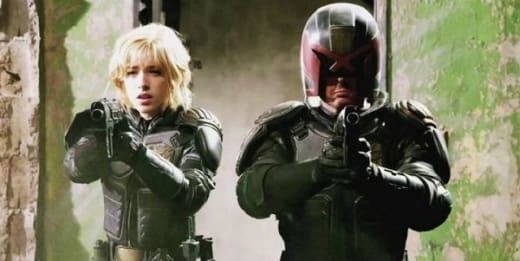 One of the most compelling aspects of this entire home video set is how filmmakers have put together a home video package that doesn't forget where the franchise came from. The documentary feature, Mega-City Masters, looks back on 35 years of all-things Dredd and is nothing less than stellar.
As we also mentioned in our theatrical review, the visuals in Dredd are drop dead gorgeous.
Cinematographer Anthony Dod Mantle and production designer Mark Digby have crafted a landscape that is as visually stunning as we saw in 2012. Taking us inside that is the home video bonus feature Day of Chaos: The Visual Effects of Dredd 3D. It's a virtual Oz-like moment where the curtain is removed to see how the magic happens.
Also of note, especially to fans of the long-running series, is the Dredd's Gear featurette that shows off the tools that allow this futuristic cop to ensure justice is served while innocents are spared. And in what is truly a gift to fans of the series that have followed the lawman for over three decades, the Dredd Motion Comic Prequel is not to be missed!