Frankenweenie arrives on home video today, and as Movie Fanatic opened our Blu-Ray/DVD/Blu-Ray 3D combo pack, it immediately recalled what we adored about the film in the first place. As we stated in our Frankenweenie review for the theatrical release, director Tim Burton and his affinity for stop motion animation has never been so beautifully produced.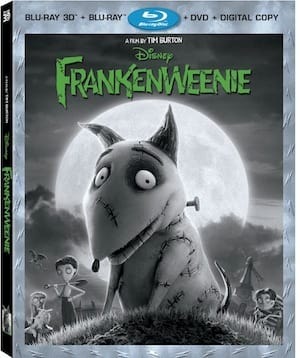 This is an impressive week for DVD releases, one that started with our Dredd DVD review and continues with a Frankenweenie package that is impressive. Fans of Burton will be especially pleased on many fronts. The fact that the filmmaker's original short is included would be enough. But, to go behind the scenes of the man's magic is simply priceless.
Movie Fanatic received the four-disc Blu-Ray combo pack that also included the Blu-Ray 3D version of the film, the DVD (for those who don't have Blu-Rays yet) and a digital copy to take Frankenweenie wherever you go.
Of the extras that most compelled us, the clear treat was the new short starring our favorite reanimated pup, Sparky in Captain Sparky vs. The Flying Saucers. Although we may not get a sequel to Frankenweenie, the short gives a new view into the world that celebrates a boy and his best friend.
Check out this teaser video of the new short!
When we were at last year's Comic-Con, we were given an exclusive behind-the-scenes tour of the Art of Frankenweenie. Our thoughts were that the world needs to see this up close and thanks to the video extras Miniatures in Motion: Bringing Frankenweenie to Life and Frankenweenie Touring Exhibit, viewers get to experience that brilliance. How these tiny characters come alive with emotions is simply dazzling. Want more proof of the artistry of this film? Check out our exclusive Frankenweenie wallpaper.
Although this is a title that is tempting to add to the family movie collection -- especially because of its Disney animation moniker -- it may be a bit too scary for little ones. Yet, parents will adore it and it is worth bringing into the home to enjoy yourself, and to have to share when the little ones grow up.
What is also nice about this set is the inclusion of the Blu-Ray 3D version. Although we do not (yet!) have a 3D TV, like the Blu-Ray-DVD combo packs that now permeate the market, it allows the consumer to have a version for the technology they already have as well as the one they will buy in the future. That's some seriously forward thinking.
Also striking upon watching Frankenweenie at home is how much the film is a love letter to Burton's youth. In our Tim Burton interview, he talked about how he grew up in Burbank in the shadow of the big movie studios and would make movies in his house -- with his trusty dog by his side. Sound familiar?