Gangster Squad: Emma Stone & Ryan Gosling on Creating Heat (Again)
by Joel D Amos at . Comments
Gangster Squad marks the second feature that Emma Stone and Ryan Gosling have starred in together as romantic interests in 18 months, after increasing the heat with those sexy Crazy, Stupid, Love quotes.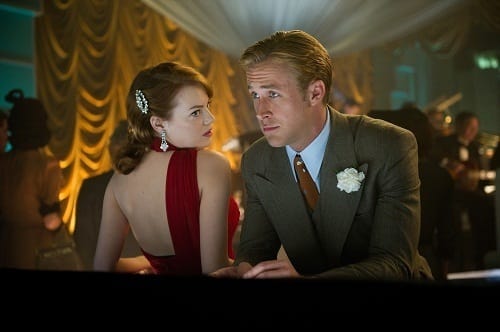 When Movie Fanatic sat down with the duo recently, at first, neither could seriously answer the question about the secret to their success. "Well, Emma owes me money," Gosling said. "The only way I can try and get that back is by doing movies with her. She still owes me that money."
Gosling gets serious for a moment after his comments make Stone laugh. "Did you like working with me?" Gosling wondered.
"No," Stone said, well… stone faced. "Did you like working with me?"
"No," Gosling added before addressing the question of what they enjoy most about each other's talents. "I think it was hard for us to be serious. We had made this comedy together, so we were a couple of knuckleheads. Then we thought, this will be fun to work together again. Then we had to try and be serious. I was trying to pretend like I was Humphrey Bogart or something. That kind of made it difficult. Did you find that hard?"
"I find that hard," Stone added. "I really liked it. I want to work with you a lot, if you'll have me!"
Gosling's humor reared its head again as he was discussing how his character's weapon of choice was not what he personally had hoped for... as can be seen in this Gangster Squad trailer!
"It was challenging for me when I realized that I was not going to get a Tommy gun. I thought for sure I would have one. Instead, I got a little, tiny lady gun. Josh kind of hogged the Tommy gun. So, that was difficult for me," Gosling said as Stone laughed.
We're not sure if he's serious as he also addresses the costumes of the 1940's and their place in his forming his character of an L.A.P.D. officer, part of the Gangster Squad that would take down Mickey Cohen (Sean Penn).
"The wool was quite itchy, so I had a rash. I channeled that irritation into my hatred for the gangsters!"
Stone portrayed a fictional character in Gangster Squad's true tale, and admitted that was much easier than Gosling or co-star Josh Brolin who had to inhabit real people with descendants who will see the film. "My character wasn't based on a real person -- which was a nice jumping off point pressure-wise," Stone said.
That didn't mean she failed to give her a whole lot of thought. "[Director Ruben Fleischer] and I had talked about the fact that she had come out to Los Angeles to be famous and she ended up on the arm of someone who was really notorious (Penn's Cohen). It was just kind of like what reality show people sometimes are like today. She's kind of famous by association or by proxy. I thought that was interesting and that something pretty heartbreaking is going on underneath the surface."
Where Gosling's regrets centered on lack of joyous weaponry and clothes that caused rashes, Stone simply wanted more time with the Gangster Squad themselves. "I didn't get a lot of time with the guys as much," Stone said.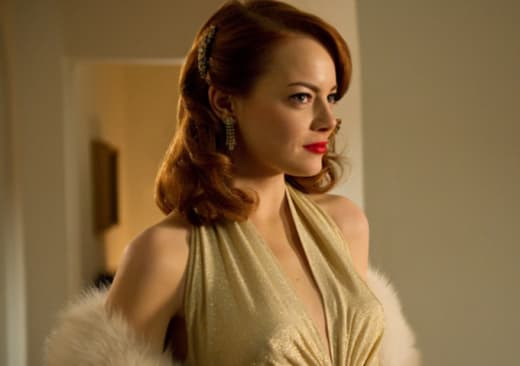 Even though she was Penn's onscreen love interest, Stone felt she was more of someone who moved around off to the periphery from the action. Sounds like she wanted more time with the gangster the squad was trying to crush!
"My character essentially is the forgotten girl on his arm a lot of the time. For the most part, Mickey's kind of doing his business while I'm off to the side. So, I was watching him more than anything."
As free as Stone was to create her Grace character, Gosling was keenly aware of the pressure of tackling a real Los Angeles hero.
"I think it's important to note that the man himself was a much braver, more admirable character than the version of him that I play in the film. But I think for dramatic purposes it was necessary to have the character have a conflict. He was then affected personally by the death of this shoeshine kid and that provoked him into joining the squad," Gosling said.
"It was like trying to balance what felt best for the film and also trying to honor the man himself. So, I did find it difficult."
That effort was made more emotionally challenging by the fact that the actor met the man's real descendants. "We got a chance to meet some family members and his kids came to the set and told me a lot of great stories, a lot of great details," Gosling said and smiled.
"Like apparently when he ashed his cigarette, he would ash in the cuff of his pants. Then at the end of the day, he would dump out his cuffs, dump out all the ashes!"
Want more? Check out this Gangster Squad Ryan Gosling Emma Stone featurette!